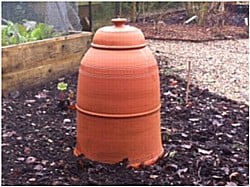 Here at Stephanie's Kitchen Garden this week we will be turning our attention to our rhubarb patch. Last year at this time we divided some of our existing plants to extend our crop and these grew well throughout the year putting on plenty of growth. At this time of year, the plants benefit from a generous mulch of well rotted manure or garden compost. Our plants are already showing plump buds emerging from the soil and this helps us to avoid mulching over the crowns of the plants which can cause them to rot. We will then apply a general purpose organic fertiliser to give the plants a boost. Finally, we will choose a couple of well established older plants for forcing. Our rhubarb forcers will be placed over the top of these and checked on a regular basis for sweet pink shoots.
This week we will also be applying potash to our fruit bushes to provide them with potassium to encourage healthy growth and larger fruits. We use the ash from a wood burner in the house, but sulphate of potash will provide the same benefits. We will also be applying this to our garlic crop as it can help protect the plants from rust later in the season.
This week we will be harvesting leeks, parsnips and spinach. We will be sowing brussel sprouts and summer sprouting broccoli.