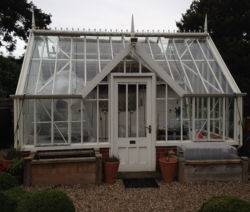 Here at Stephanie's Kitchen Garden this week we have been giving the greenhouse windows a thorough clean.
Inside, we were up the ladder with a greenhouse cleaner and cloths wiping down all the glazing bars and glass. The weather forecast for our area this week indicated a calmer, but very cold week: ideal conditions for retreating into the warm heated greenhouse for a spot of cleaning.
For the outside of the greenhouse we used our swop top cleaning system. This makes a difficult job an awful lot easier and always brings the glass up sparkling clean, without the hazards of climbing ladders.
We have also given the glass in our cold frame a thorough clean to allow more light into the overwintering plants.
This will complete the annual winter clean in Stephanie's Kitchen Garden. All ready for the new season ahead. Can't wait!