1. A fruit cage can protect fruit and vegetables in your kitchen garden from birds, butterflies, aphids, deer, badgers or foxes allowing you to harvest more of the crops you grow.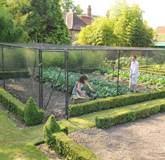 2. Harrod Horticultural Fruit Cages are designed and manufactured in the UK with over 60 years experience and are available in high quality galvanised steel, non-rusting aluminium and sturdy timber so the final look will blend seamlessly with your garden. You may be thinking, what are the benefits of purchasing a Harrod Horticultural steel fruit cage from us, rather than from another company? Find all the answers here.
3. Along with a choice of fruit cage material there are a multitude of fruit cage designs to choose from to suit any style of garden. From flat roof, to peak, dome, pavilion, corridor, arch, cherry tree, vintage, storm proof, portable, low height, walk in, vegetable, strawberry and build your own, the list goes on....!
4. We've got low level strawberry cages 45cm's tall, right up to the stunning decorative steel fruit cages reaching 3.37m tall in our range. So whether it's currants, blackberries, strawberries, courgettes, cabbages or leeks you're looking to keep safe, we're confident we've got a cage height to suit your height. Our market leading Fruit Cages are available in a range of sizes to suit all gardens and our pre existing sizes don't suit, we offer a made-to measure service for sloping gardens or bespoke sizes.
5. We can offer advice on a huge range of netting with which to cover your cage - from the finest grade insect mesh netting which excludes even the smallest of beetles, right up to an 8cm (3") square anti-pigeon mesh for airborne winter raids.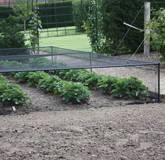 6. You can view our fruit cages on display at a variety of prestigious gardens around the country so you can see and feel the strength and quality before you buy.
7. A fruit cage also makes a perfect Poultry Cage! Our chicken and poultry cages are made by us in the UK to the same exacting standards as our best selling fruit cages. The steel chicken cage really is made to last using black powder coated galvanised steel while the strong aluminium tubing used in our aluminium poultry cage makes it a market leader.
8. If you would prefer a budget crop protection option that packs away during the winter the Build your own Fruit and Vegetable Cages are designed for you. The wide range of components means you can tailor your cage to perfectly fit your garden using the extra strength aluminium tubing and versatile award winning RHS Chelsea garden product of the year- Harrod Slot and Lock® connectors.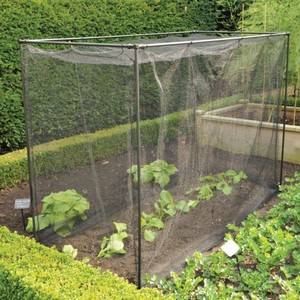 9. If you garden on an open site and haven't purchased a fruit cage in the past due to the risk of wind and rain damage, a Harrod Slot and Lock® Storm Proof Cage is the solution for you. See how the product performed in a wind test here.
10. If you practice crop rotation then the Harrod Slot & Lock® Aluminium Portacage is faultless; a fortress of a vegetable cage which you can simply pick up and place anywhere you like in the garden. The cage features ground bars on all sides, supporting the cage and allowing it to be easily lifted up and over crops.
Of course it's easy to dismiss competitor's cages and praise our Harrod Horticultural fruit cages but we hope the information above gives plenty of substance to our claims!