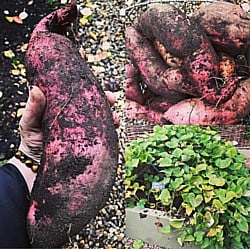 It has been another week of tidying in the kitchen garden especially in the greenhouse. The long sweet peppers and bell peppers have been harvested and all the plants removed along with the aubergines.
We are moving things about in the greenhouse this year to try and give us a more efficient use of our space. The raised bed has been removed and the staging put in its place which will then allow us more room for the self-watering grow pot towers. These are independent structures that don't require any additional growing supports and proved a very successful way of growing our tomatoes this year.
Once the greenhouse was emptied it was time to start washing everything; we have cleaned all the pots and the staging this week and we will clean all the glass next week.
The kitchen garden has seen the last of the summer spinach harvested and dug up, but there is already a new raised bed of spinach growing and ready for its first harvest. Spinach grows really well in our raised beds, much better than in open ground. So if you're a fan of spinach I would highly recommend growing it in a raised bed.
Even though the weather is cold and next spring seems a long way away its time to start forward planning for it. I have sown the broad beans this week. I have chosen to sow them in root trainers and over winter them in the cold frame rather than planting directly outside. Growing this way I can choose the strongest plants for planting out and if any fail I won't be left with any waisted space.
We are continuing to harvest the celery although not the biggest of stalks it is great to add to soups and sauces or just eat raw. The sweet potatoes have been harvested and it has been an amazing crop this year.
The blackberries have finished producing now so we have removed the old wood. They were cut back a little hard last year so we didn't have quite so much fruit but lots of new growth means that next year hopefully we should have a bumper crop.