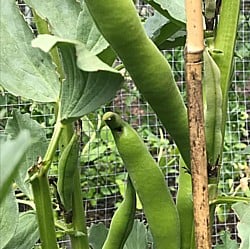 The weather has been extremely hot here with glorious sunshine, which has meant I have been doing lots and lots of watering. But the vegetables have loved it and are growing really well and getting big especially the sweetcorn which has now got kernels, not quite ready for picking yet but I think it is going to be a very good year for sweetcorn.
I have harvested the last of the broad beans, the plants are now looking tired and are ready to be dug up and added to the compost bins. I have continued to harvest; courgettes which we have a glut of, spinach, sprouting broccoli, rocket, lettuce, blueberries, raspberries, kale, chillies, tomatoes and cucumber.
The first crop of charlotte potatoes has now been lifted; a good size and a good yield. There was a lovely large crop of apricots too this year, although the wasps seemed as eager to eat them as I was.
The beetroot however has fallen prey to squirrels I'm afraid; although I haven't actually seen any having a nibble the teeth marks, they have left behind would suggest they are the culprits!
Along with the beetroot the peas seem to have a foe, this one is a bit harder to determine as they have taken the whole pea pod and left no evidence behind but my suspicions are again pointing at the squirrels.
My attention has now turned to autumn and winter cropping vegetables. We plan on sowing some autumn king carrots this week, also new for this year that we haven't tried before some spring cabbages and cauliflowers and autumn sown garlic.