The benefits of growing in raised beds and containers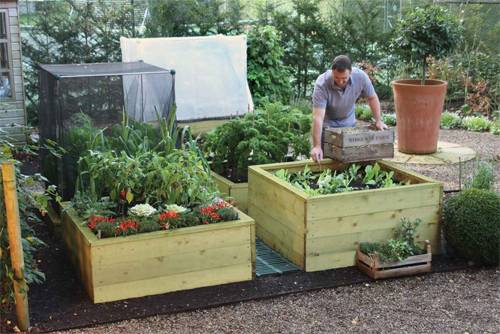 Options to get involved in gardening really are endless from tending to large gardens or smaller urban spaces, even balconies, windowsills and indoors with houseplants. Often, no matter what size your space is, containers and raised beds are often part of a garden and can be a useful, convenient way to grow your own flowers and vegetables. Here are a few reasons why it can be beneficial to grow in raised beds and containers.
Containers can be temporary and moveable
Whether you choose to grow flowers, edibles or a mix of both you can do all of this in a raised bed or container. That means, if you do decide to move house, especially if you are renting or perhaps if you just want to have a change about in the garden, growing in pots or containers means you have that extra flexibility to do so.
Growing in raised beds is great for beginners
If you are just thinking of getting started in the garden and a whole patch seems a bit overwhelming, growing in raised beds can give you the confidence to get growing, no matter what size space you have. It will help to control weeds, some pests and keep things tidy in one place. It can be hugely satisfying to see a raised bed come to life.
If you need improved drainage raised beds could be the answer
For gardens that have particularly bad drainage, you can grow in a raised bed which means that there is enough root space to grow before meeting the wetter ground. Raised beds in general have better drainage anyway which also means you could extend the growing season as well.
You can get creative in a raised bed and containers
Creativity in the garden needn't be thwarted if you grow in raised beds or containers, in fact you can really let your gardening ideas loose. Why not add some supports and grow vertically as well, from Trombetta Squash to Melons or colour code your beds and grow blocks of colourful flowers. There are many options for creating a spectacular display.
Your back will thank you for it
Forget all of that bending down, kneeling, lifting and the extra hard work! If you have raised beds and containers, you can choose the height you would like to garden at. Easier on your back, knees and hips plus if you have a nice sturdy structure you can perch on the side and relax while enjoying all of your hard work.
Guest Blog by Ellen Mary
http://www.ellenmarygardening.co.uk/