Square Trumpet Plant Supports
£4.95 P&P
Our Square Trumpet Plant Supports offer substantial size for supporting larger perennials and roses, endorsed by the RHS with distinctive 25mm ball tops they add architectural interest to borders all year round, particularly during winter months.
Read More
5 Year
Structural
Guarantee
Exclusive Designed &
Made by us in the UK
3 Working
day despatch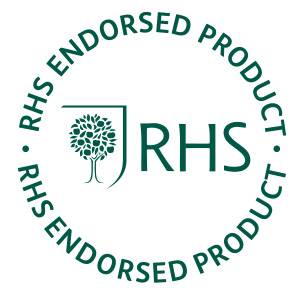 Our Square Trumpet Plant Supports offer substantial size for supporting larger perennials and roses, endorsed by the RHS with distinctive 25mm ball tops they add architectural interest to borders all year round, particularly during winter months.
These stylish plant supports are made using solid 8mm round steel rods for the legs and 10mm solid steel for the rings and come with a 5 year structural guarantee. The plant supports are high temperature powder coated in matt black for a long lasting weatherproof finish.
Square Trumpet plant supports are one piece fully welded
Endorsed by the RHS
Available in Matt Black finish
5 YEAR STRUCTURAL GUARANTEE (excludes surface corrosion)
Made from solid 8mm round steel rods for legs and 10mm for the rings
Substantial size is ideal for supporting larger perennials and roses
Height is measured from bottom of feet to the top of ring
Push legs between 10cm and 20cm into ground and adjust top ring to the height required for the plant
Measures 30cm to lower ring, 75cm to top ring and 43cm wide
27th January 2020
Over the years I have purchased many Harrod plant supports, extremely helpful in my garden where plants overflow on sloping areas competing for light. They are the best supports I have ever had and very helpful allowing plants to grow upwards, assisting bulbs and smaller plants to have their share of light. Especially useful for tall bulbs as they can be moved after flowering to support later flowers .