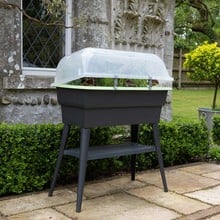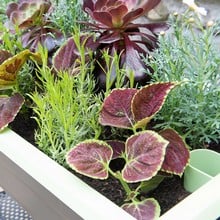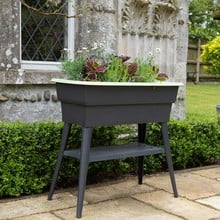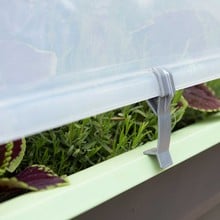 Self Watering Grow Table
£5.95 P&P
Size:
81cm x 39cm x 100cm
The innovative and freestanding Self Watering Grow Table with 7 litre water storage reservoir is an easy way of growing vegetables and herbs in small spaces on a terrace, patio or courtyard garden.
Read More
The innovative and freestanding Self Watering Grow Table with a 7 litre water storage reservoir is an easy way of growing vegetables and herbs in small spaces on a terrace, patio or courtyard garden. Ventilation funnel and lateral watering system with control over water level and overflow.
The 40 litre Grow Table stands at a convenient height to tend to your plants and to keep them away from marauding pests. Has an outer tray with water storage for aquifer roots and inner tray for feeder roots. The protective plastic bell cover has been specially developed to enhance plant growth and climate control sliders in the roof control ventilation.
Self Watering 40 litre Grow Table
7 litres of water storage reservoir
Lateral watering system
Modular section with plant dividers
A ventilated protective bell cover
Funnel ventilation
Holding clasps and lower storage shelf
Detachable legs
Measures 81cm x 39cm x 100cm high
Be the first to write a review for this product.
What The Press Say
---
Kitchen Garden
June 2019
Self Watering Planters - Product Reviews
Top Pick - Best Freestanding Table. A very well-designed growing table, easy to assemble. We like the versatility of this. It can be used for cut-and-come again salad leaves, herbs and as an unheated propagator for starting off a range of vegetable seeds. Easy to fill with water and has a useful gauge for checking water level.
---