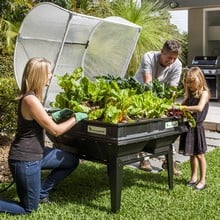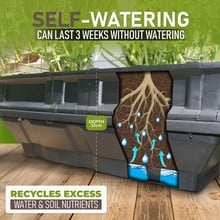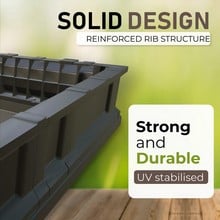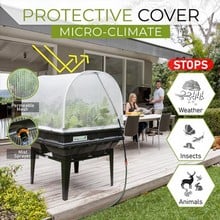 Vegepod Bed with Cover and Stand
£9.95 P&P
The Vegepod garden beds with smart self-watering technology, polyethylene knitted mesh cover to protect from UV and pest damage provides the perfect environment for growing your own vegetables
Read More
The Vegepod garden bed is a super effective, easy raised garden bed to get you growing your own food. Suitable for patio or deck or anywhere where gardening space is at a premium, yet large enough to grow any vegetables you like.
The smart self-watering technology uses a wicking system, watering plants from below maintains vegetable health and plants can last weeks without additional watering in these all season Vegepods.
After you plant your seedlings you can give them a good soaking using the in-built mist-spray (20 mins) this will wet the soil through and fill the reservoir.
The polyethylene knitted mesh cover protects crops from UV and pest damage and helps to manage temperature by allowing water and air to penetrate.
Vegepod stand is made from galvanised steel with a stylish gloss finish, marine grade nuts & bolts are used to ensure durability.
Vegepod Garden Bed with Cover and Stand
Easy growing, all year round
Keep pests and wildlife out and minimise weather damage
All season commercial grade Vegecover canopy included plus Hothouse Cover for propagating
Easy assembly, no tools required
Self watering wicking bed system
In built irrigation system with 2 misting sprays
Measures 100cm x 100cm
Stand 80cm high
Soil required 4 x 60 litre bags
Be the first to write a review for this product.
What to plant in your Vegepod this autumn....