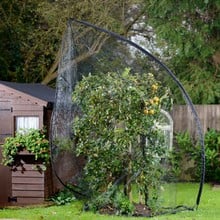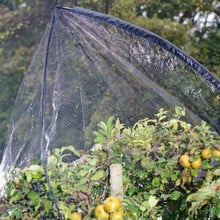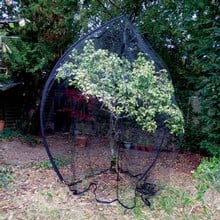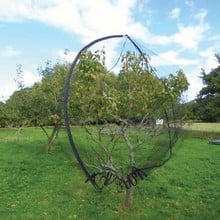 Popadome Fruit Tree Cover (3.5m high)
£4.95 P&P
The New Popadome Fruit Tree cover is exclusively available to us, can be erected easily in minutes and offers your fruit trees protection from birds.
Read More
3 Working
day despatch
The New Popadome Fruit Tree cover is exclusively available to us, can be erected easily in minutes and offers your fruit trees protection from birds.
The Popadome Fruit Tree protection cover is UV stabilised comes with 10mm square mesh and is easily erected by fitting the fibreglass poles together that feed through a sleeve in the netting.
The pole is anchored to the ground and the top end bends over the tree allowing the netting to be draped around. A cord is attached to the zip access which can be pulled to close up the netting and a drawstring around the base allows the bottom of the netting to be closed and drawn in towards the pole.
Fruit Tree covers provide complete protection from birds
Fibreglass poles easily fit together and UV stabilised 10mm square mesh netting
Supplied with a handy carry bag and can be repacked when not in use
Approx. 3.5m High x 2.6m Diameter
The pole is anchored to the ground with an 8" tent peg
The cover also uses the tree for support and there is a draw string round the base to draw in any loose net material
Note: You may lose some fruit to the birds if the netting is allowed to rest on the fruit
13th June 2019
I think it is a great product and really keeps the birds off. The only problem I have had is I live in windy Suffolk and I have had to put extra guide ropes in otherwise it blows around knocking off the fruit
7th June 2019
Easy to erect by two septugenarians and looks very impressive.
28th May 2019
As far as I can find this is a unique product. Unfortunately that means that Harrod have little reason to develop it or reduce its price. One major problem I have found with it is that on an exposed allotment site it is not sufficiently stable and so I have had to add three guy ropes to hold it stable over the tree. Secondly Harrod do not offer replacement netting covers. If they did I would buy more but as it is the lifetime will be limited by the netting which is less good value.
What The Press Say
---
Grow Your Own
April 2017
Protect Your Crops
Keep your crops safe and sound on the plot with a Popadome
---