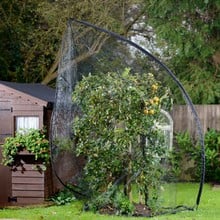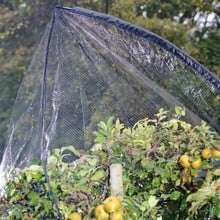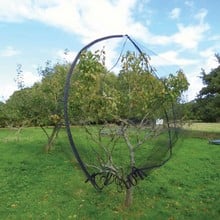 Popadome Fruit Tree Cover (3.5m high)
£4.95 P&P
The New Popadome Fruit Tree cover is exclusively available to us, can be erected easily in minutes and offers your fruit trees protection from birds.
Read More
3 Working
day despatch
The New Popadome Fruit Tree cover is exclusively available to us, can be erected easily in minutes and offers your fruit trees protection from birds.
The Popadome Fruit Tree protection cover is UV stabilised comes with 10mm square mesh and is easily erected by fitting the fibreglass poles together that feed through a sleeve in the netting.
The pole is anchored to the ground and the top end bends over the tree allowing the netting to be draped around. A cord is attached to the zip access which can be pulled to close up the netting and a drawstring around the base allows the bottom of the netting to be closed and drawn in towards the pole.
Fruit Tree covers provide complete protection from birds
Fibreglass poles easily fit together and UV stabilised 10mm square mesh netting
Supplied with a handy carry bag and can be repacked when not in use
Approx. 3.5m High x 2.6m Diameter
The pole is anchored to the ground with an 8" tent peg
The cover also uses the tree for support and there is a draw string round the base to draw in any loose net material
Note: You may lose some fruit to the birds if the netting is allowed to rest on the fruit
13th June 2019
I think it is a great product and really keeps the birds off. The only problem I have had is I live in windy Suffolk and I have had to put extra guide ropes in otherwise it blows around knocking off the fruit
7th June 2019
Easy to erect by two septugenarians and looks very impressive.
29th May 2019
A really badly designed product. The pole rests on the tree, the net gets caught on the branches and it ends up in a tangled mess. The birds haven't eaten any fruit but it's broken three of the smaller branches and spoilt the shape of the tree. I really regret buying this product.
Many thanks for your review. During the last 18 months we have sold nearly 1000 fruit tree covers and we have had lots of very positive feedback on the product. We are sorry to hear that you have had problems and we have forwarded your comments onto our design who are constantly looking at ways to improve products. We do appreciate all feedback received.
What The Press Say
---
Grow Your Own
April 2017
Protect Your Crops
Keep your crops safe and sound on the plot with a Popadome
---