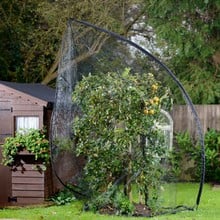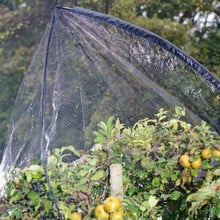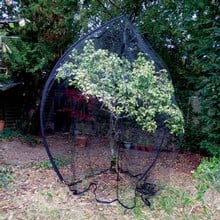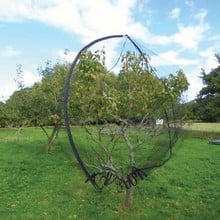 The New Popadome Fruit Tree cover is exclusively available to us, can be erected easily in minutes and offers your fruit trees protection from birds.
The Popadome Fruit Tree protection cover is UV stabilised comes with 10mm square mesh and is easily erected by fitting the fibreglass poles together that feed through a sleeve in the netting.
The pole is anchored to the ground and the top end bends over the tree allowing the netting to be draped around. A cord is attached to the zip access which can be pulled to close up the netting and a drawstring around the base allows the bottom of the netting to be closed and drawn in towards the pole.
Fruit Tree covers provide complete protection from birds
Fibreglass poles easily fit together and UV stabilised 10mm square mesh netting
Supplied with a handy carry bag and can be repacked when not in use
Approx. 3.5m High x 2.6m Diameter
The pole is anchored to the ground with an 8" tent peg
The cover also uses the tree for support and there is a draw string round the base to draw in any loose net material
Note: You may lose some fruit to the birds if the netting is allowed to rest on the fruit
24th April 2019
To date we've experienced 100% protection from pigeons (and anything else) attacking both our plum & greengage trees. Excellent speedy delivery & good packaging of the product. I wish I had known of these years ago! Product is very easy to assemble on the ground, just like inserting tent pole rods. If there are two people to erect & position the Popadome it will be a doddle to complete as it's like a giant cape engulfing the tree. Whilst a fun challenge, I erected it on my own very successfully.
14th September 2018
You stocked just what I needed. Didn't know it existed! Quick delivery. The popadome did just what it said on the pack. I enjoyed my cherry harvest, the birds didn't get any. Dome packed away well ready for next year. Result!
6th June 2018
We have lost severals crops of cherries to birds and fleece or netting held in place with clothes pegs did not work so when the popadome apperared we thought we would give it a try. It came well packed in its own case and the netting is substantial. Our problem is the tree is old quite large and definately not standard tree shaped and it also has a hedge very close. The popadome was finaly fitted over the tree and the cord tied around the trunk. The support pole does hold the dome away from the tree but it kept coming apart as we were manouvering the dome, we also have not used the ground pegs. The cherries are coming along nicely receiving good sunlight through the mesh. I just hope the wasps decide to stay outside.
What The Press Say
Grow Your Own
April 2017
Protect Your Crops
Keep your crops safe and sound on the plot with a Popadome