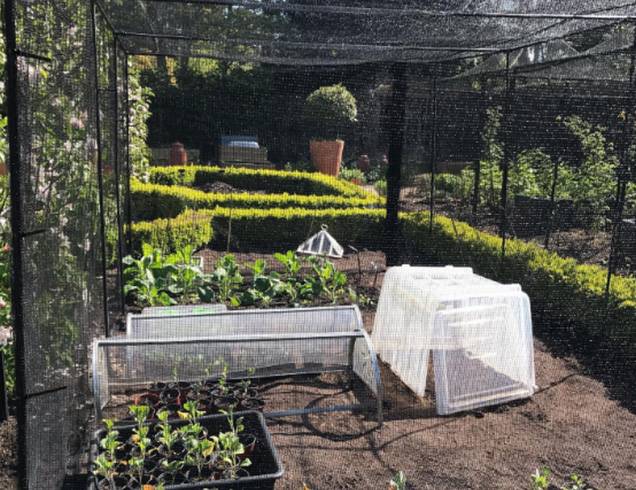 The week started with building a larger net cage for the brassicas. Building the frame was the easy part, shaping and cutting the net to fit took its time but finally it was built. Now we can get on with planting the cabbages, cauliflowers and broccoli that are ready to be planted. The sprouts can now be spaced out properly and we will be planting a row of kale direct into the ground.
The greenhouse was next on the list that day, it got a good clean and tidy, one of the staging tables was moved so the tomatoes were easier to get to, which makes watering much easier.
Any vegetables or flowers that could go out into the cold frame were moved. The remainder of the day was spent watering as there still hadn't been sufficient rainfall. Waterbutts in the kitchen garden are now empty and even the large water reserve in the greenhouse is now empty but still no rain forecast for the week.
In the kitchen garden a one tier metal raised bed has had an extra tier added, the courgettes are going to be planted in there. Late Monday we had a delivery of vegetable topsoil, great for raised beds, that has been tipped into this bed so hopefully we should have a good harvest.
The 'Cara' potatoes shoots are determined to be above ground so we have stopped 'banking' them up, soil is sliding off them now, we will leave them now to head skyward and to leaf and flower.
As it is a short week, bank holiday Friday, celebration of VE Day, it meant giving the kitchen garden a good soaking and the zinc planters outside a feed and water. A quick weed of the flower borders and a rake of the golden sand paths and we are ready for a long weekend.
We hope you all enjoyed the long Bank Holiday weekend and managed to spend some time enjoying your outside space.
Happy Gardening!