The air of mystique which sometimes surrounds allotments will be lifted for 7 days in August this year, when National Allotments Week takes place across the UK.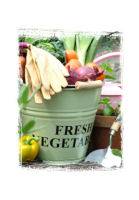 Organised as a joint venture by the National Allotment Gardens Trust and the National Society of Allotment and Leisure Gardeners - the national body representing allotment holders and vegetable gardeners in the UK - the event will run from Monday August 12th until the 18th.

During the event, local allotment sites are being urged to throw their gates open to the public with the aim of demonstrating the social benefits of allotments and promoting the awareness and availability (or non-availability, in certain cases) of allotments.
Their "Growing Together "theme for National Allotments Week 2016 draws attention to the inclusive nature of allotment gardening, appealing to all sections of society from the unemployed to the professional, all races and religions and all levels of ability.
Allotments may offer individuals the opportunity to manage a plot of their own and grow their own food but they also host projects that range across many areas. e.g. adapted plots for people with disabilities, educational visits from schoolchildren, therapeutic growing opportunities for the bereaved, refugees, those with mental health issues and gardening on prescription.
Visitors - such as school groups, councillors and local clubs - will be able to witness first hand the advantages well-kept allotments can bring to the local area, such as enhancing the environment by creating and maintaining green spaces, encouraging camaraderie and community spirit and, of course, the production of fresh fruit and vegetables.
For a list of events already scheduled to take place during the week, visit the National Allotment Society

If you're new to gardening and growing your own veg, getting your first allotment can be a bit daunting when tackling the whole plot. Using raised beds to divide up some areas can make the job a bit easier. Also you may not want to splash out lots of money on expensive pieces of kit which is precisely the reason why we've added a budget Wooden Allotment Raised Bed to our range.

In areas where no allotments currently exist, it is hoped National Allotment Week will encourage individuals to lobby their local authority to provide an allotment site, which is a statutory council obligation.