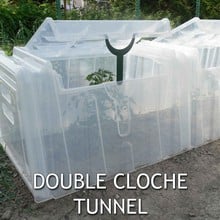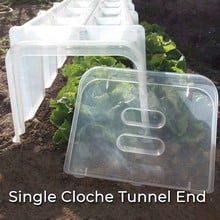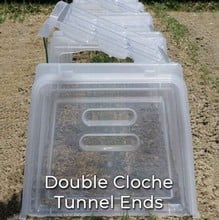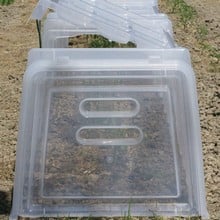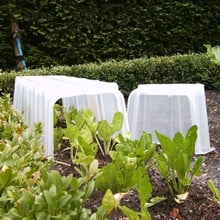 Mini Greenhouse Cloche Tunnels
£4.95 P&P
Quick and easy to set up, these robust Mini Greenhouse Cloche Tunnels have thick, rigid plastic walls that provide extreme weather and pest protection for your vegetable crops.
Read More
3 Working
day despatch
Quick and easy to set up, these robust Mini Greenhouse Cloche Tunnels have thick, rigid plastic walls that provide extreme weather and pest protection for your vegetable crops. Plants also enjoy an extra, natural source of water via the clever integral rainwater collection reservoirs on the roof.
With a choice of single or double row crop sizes, the single can be anchored to the ground or propped up with additional pegs for ventilation whilst with the double row cloche there is a detachable hatch which is useful for easy tending and harvesting too. Quick and easy to set up, select as many lengths as you need, they just snap together and then buy the ends separately. Please Note: Ends differ slightly from those shown and measure 3.5cm deep.
Extra Saver Offers
Buy 2 Single Row Cloches and a Pair of Ends and Save £7! (GDN-834)
Buy Double Row Cloche & pair of ends and Save £4! (GDN-837)
Single Cloche Tunnels measure 104cm L x 38cm W x 30cm H
Double Row Cloche Tunnels measure 80cm/32" L x 60cm/24"W x 50cm/20"H
Sold individually without ends for complete flexibility of use
Tunnel cloches simply snap together to form a longer tunnel if desired
Ends differ slightly from those shown and measure 3.5cm deep.
Ends sold separately to avoid surplus (in the case of a longer tunnel)
Ingenious roof design traps rainwater which drips inside to water plants
Sides easily propped open for ventilation with fixing pegs (not supplied but also available separately)
14th April 2019
Good job I ordered these in time to protect my garden plants from the frosts we have been having.
14th April 2019
Ordered just in time to protect plants in garden from the frost we have been having recently.
What The Press Say
---
Gardens Illustrated
1st January 2014
'Cloche of the Titans'
Whether it's winter protection for crops and seedlings, or planning ahead for soil-warming prior to sowing seeds come spring, there's a style of cloche to suit your needs.
---
Grow it!
5th December 2009
'Know-how - Protection Racket'
"Mini Greenhouse Cloches are robust and have thick, rigid walls with integral rainwater collection reservoirs, so plants enjoy natural rainwater while still being protected. Fixing pegs securely anchor the tunnels and can be used to raise cloches to a tilted position for added ventilation."
---