Not only are blueberries incredibly delicious and jam-packed with nutrients, they are actually pretty easy to grow. Whether you're throwing them into smoothies, or adding them to your favourite tart, their versatility makes them a perfect addition to your garden. Beyond bearing tasty fruit, blueberry bushes produce attractive spring flowers and vivid foliage in autumn, adding a decorative element to the landscape.
Did you know? Blueberries were called 'star fruits' by North American indigenous people because of the five-pointed star shape that is formed at the blossom end of the berry.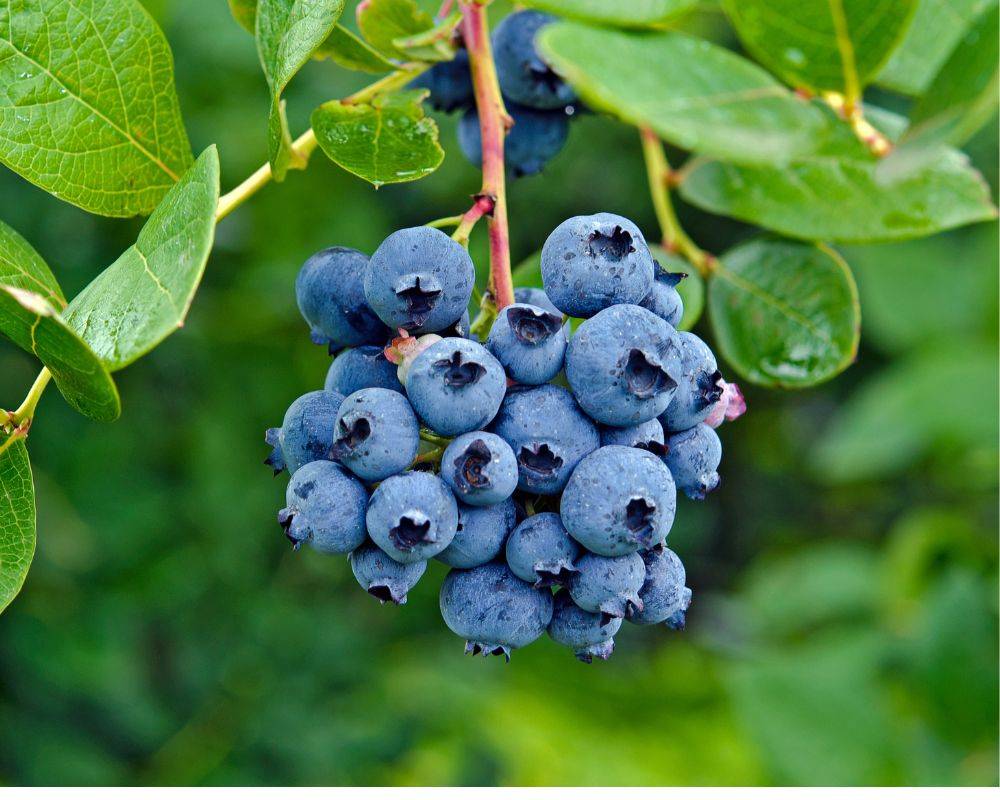 The growing process
Pick your varieties
Here's our list of the best 4 varieties to grow in your own garden:
Bluecrop
Considered by most to be a reliable cropper, this mid-season cultivator produces high yields of large, delicious fruits that are ready to pick in mid-summer. The light blueberries are large, firm and gathered in clusters.
Duke
Blueberry Duke bears firm, medium sized, light blue berries with a sweet flavour. The super tasty fruits train their freshness longer than most other varieties too. It flowers later but fruits early, so it's good for areas with a shorter summer season.
Pink Lemonade
Who says blueberries always need to be blue? This fun variety produces generous crops of deep pink berries with a delicious, sweet flavour. Initially a pale green, the first become flushed with pink, but turn a deep pink when they are fully ripe and ready to pick.
Chandler
This variety produces a wealth of juicy fruit that are simply bursting with the most delicious flavour. Enormous, firm berries measuring up to 20mm in diameter are produced from the beginning of August until mid-September. This stout blueberry bush also makes an attractive shrub for the patio, bearing masses of sweetly scented creamy white flowers.
Growing
Blueberry bushes should be planted in an area that receives full sun but is sheltered from strong winds. Avoid a site that is close to tall trees or shrubs that might block the sunlight or compete for soil moisture and nutrients. Make sure the planting site has good soil drainage. They must also be grown in very acidic soil (pH 4.5-5.5), that does not dry our in the summer or become waterlogged in the winter.
Before planting your blueberries, improve your soil by digging in plenty of bulky, acidic organic matter, such as pine needles, leafmould or composted conifer clippings. When it comes to the planting, blueberry bushes should be spaced in a row about 4-5 feet apart, adjacent rows should then be spaced 9-10 feet apart to provide plenty of room for harvesting. Once in the ground, water them thoroughly.
Blueberry care advice

Blueberries can be planted any time of the year as long as the ground isn't frozen.


Water well, daily (with rain water) for the first few weeks to establish plants. Tap water will raise the pH level and blueberries like acidic conditions.


Blueberries can self-pollinate. However, for best results, plant more than one variety, two is good but three would be the ultimate. The diversity will result in a higher yield and larger fruits.


Use fleece to protect the flowers against frost in late spring.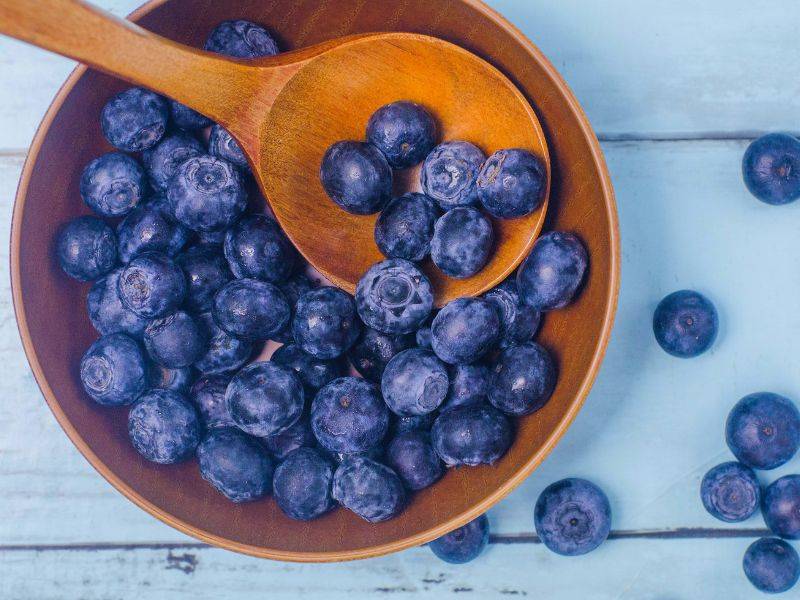 Harvesting
The berries start to ripen from mid-summer onwards, changing from green to dusky blue when ready to pick. They won't all ripen at once, so make sure to check over your plants frequently. A productive plant will produce up to 5-11lb of blueberries. It will take several years for your plant to crop heavily but you should enjoy fruits in the first summer.
Blueberries don't require any pruning in their first 2 years, simply remove any crossing or rubbing branches. Once established, bushes benefit from regular pruning to keep them healthy and productive.
Once picked, place your blueberries in the fridge unwashed. Typically, they will last for up to a week but if frozen they will keep for around 6-12 months.
Tip: Blueberries will fully freeze in just 4 minutes – the perfect solution for more blueberries than you physically eat.
Other uses for your surplus blueberries
Make the most of your fresh blueberry harvest with our selection of useful recipes:
Dried blueberries
Best used in granolas, yoghurt, muffins or pancakes, dried blueberries can be used in an abundance of recipes. To make, remove any stems left on the berries and rinse the fruit in a colander. To blanch, place a large pan on hob and bring enough water to a boil that will slightly cover the berries. Place your berries into the water and blanch for 30 seconds. Remove them from the pan and place in a bowl of ice water. Remove berries from the bowl and leave to dry on kitchen towel. Once dry add to your dehydrator racks and dehydrate the blueberries for around 30 hours. When done, remove the dry blueberries and enjoy!
Blueberry compote
This tasty and versatile sauce is a great way to use up any leftover berries and can be added to an array of breakfast dishes, including yoghurt and cereal. Rinse your blueberries well and then add them as well as some white sugar, lemon juice and water to a large pot. Stir and bring to a boil. Allow to boil continuously for 5 minutes. Reduce the heat to low and let the berry sauce simmer, stirring occasionally, and thicken for 10 minutes. Voila, a delicious compote that can be served both warm and cold.
Simple blueberry muffins
Everybody loves a blueberry muffin, right? Especially these delicious creations. Perfect as a breakfast snack, or quite simply an afternoon treat. Preheat your oven and line your muffin tray. In a large bowl, combine flour, sugar, baking powder and salt. In a measuring jug add oil, 1 egg, milk and vanilla then whisk to combine. Add the wet ingredients to the dry and use a fork to mix. Fold in your blueberries. Divide the mixture between the muffin cases and sprinkle a little sugar on top. Bake for approx. 15-20 minutes.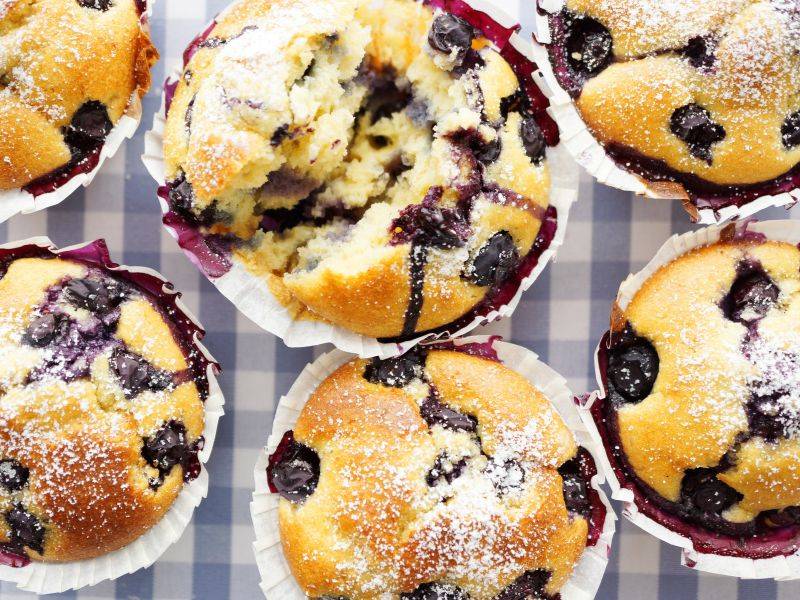 Infused booze
Wouldn't it be wonderful if we could get 1 of our 5 day from a gin & tonic? Well, with this simple recipe you're well on your way. Give your blueberries a good rinse then add to a large pot. Warm them over medium heat, stirring often. Cook your blueberries until they release a decent amount of liquid. Remove from the heat and allow to cool to room temperature. Add the blueberries with juices to a large, airtight jar and pour in entire bottle of gin. Seal the lid and store in a cool, dark spot for 5 days. Make sure to shake the jar at least once a day. Once the 5 days is up, strain the infused gin through a fine mesh basket strainer into a clean bottle or container.