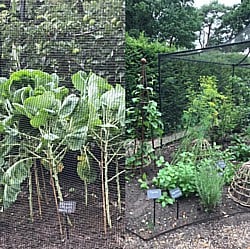 It is starting to feel very autumnal in the kitchen garden this week and its only August! The weather has cooled down and the plants are starting to come to the end of their productive period so the kitchen garden has had a really good tidy up.
This week we have pulled up the sprouting broccoli, kale and peas and the beds are starting to look quite bare the cauliflowers have had to go too as they seemed to have become a victim of something. It could be club root, poor soil the weather or a mixture of all three, but they certainly weren't going to bare any heads this year.
One thing we can defiantly blame on the weather this year is potato blight unfortunately this week our crop fell to the dreaded blight and the cara potatoes have been dug up early, far sooner than we wanted so much smaller than they should be but still edible.
But It's not all bad the Romanesco cauliflowers are still growing and the Brussel sprouts are doing well and starting to form. The celery is nearly big enough to pick and we have had more tomatoes, cucumbers, courgettes, spinach and lettuce. The runner beans are making a spectacular show on the bean frame and French beans are flourishing.
The carrots that have recently been sown are now sprouting through the ground and the parsnips are now rapidly growing. the cobs on the sweetcorn are swelling nicely, the squashes have formed and are filling out well and we have picked the first aubergine this week which was a good size.
The once beautiful old cedar pine tree has been felled, it's so sad when such a majestic specimen dies and leaves no option other than its felling.