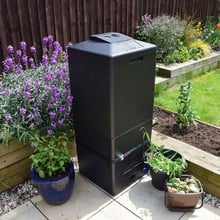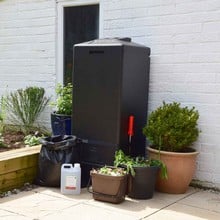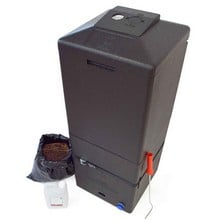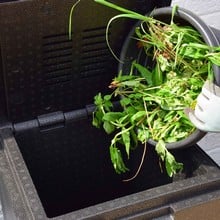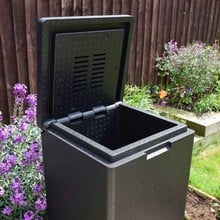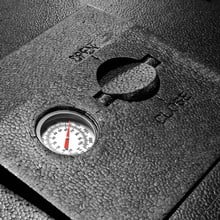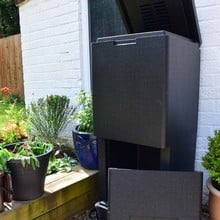 Hotbin Mini Composter (100 litre)
£0 P&P
The HOTBIN Mini composter, RHS Chelsea Product of the Year 2019, is a 100 litre unit which benefits from all of the same features as the 200 litre Hotbin composter but is a smaller version for households with less waste.
Read More
The New HOTBIN Mini is a slimline hot composter designed for smaller gardens and for keen composters who have less waste. Half the volume of the HOTBIN Mk.2, the HOTBIN Mini is a 100 litre unit which benefits from all of the features on the Mk.2 model but on a smaller scale.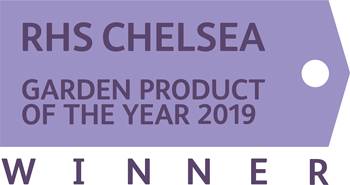 The HOTBIN works all year round including the winter months, it arrives assembled and is ready to use and comes with a whole entourage of extras which will help revolutionise your home composting set up.
What's Included:-
100L HOTBIN Slimline Composter
User Guide
Lid Thermometer
Kick Start Bottle
Internal Thermometer
Raking Stick
25L Bag of Bulking Agent: partially composted wood chip
More Info:-
RHS Chelsea Product of the Year 2019
Made from expanded polypropylene (EPP) 50mm thick walls - Lightweight (96% air) & 100% recyclable
Measures 450mm wide x 450mm deep x 1125mm High
Capacity of 100 litres - approximately slim sized wheelie bin
Weight 4kg (when empty) - 18kg including everything supplied
HOTBIN is delivered fully assembled with user guide included
Situating the HOTBIN - anywhere on a flat surface - soil, patio, grass, gravel or paving in sun or shade
Designed for an 1-2 person household with or without a small garden.
Bulking agent - partially composted woodchips required in hot composting to aerate the waste.
Shredded Paper - used to control moisture levels in the HOTBIN.
Long-stem thermometer for tracking temperature during setup of the HOTBIN included
Winter 'kick start' heater (also known as a 'hot water bottle') included
Fully insulated walls
Uses latest composting technology
Hinged lid
Helps promote temperatures of 60°C in top layer
Internal thermometer for tracking exact temperature in top layer of waste
Air inlet and outlet for effective aeration
Capable of producing mulching compost in 30 days and mature material in 90 days
Manufacturers advise cooked meat/bones/fish can be added
Airtight lid to reduce smells and unwanted visitors
Aeration valve plate to moderate temperature
Biofilter unit to stop any unfriendly smells
Easy to remove hatch door panel to take out mature compost
3 year manufacturing guarantee on the HOTBIN unit
1 year guarantee on sundries (raking stick, cam straps, additional thermometer)
Please Note: The HOTBIN is not vermin proof.
For more information download the Hotbin User Guide (1.09MB)
Delivery Information
As the HOTBIN Composter is a bulky item, there will be an extra delivery charge to addresses outside of UK Mainland - extra delivery charges will be made when delivering to Scottish Highlands, Offshore Scottish Islands, Orkney & Shetland Islands, Northern Ireland, Republic of Ireland, Isles of Scilly, Isle of Man and Channel Islands. Please e-mail our Customer Services Department or telephone us on 0333 400 6400 (local rate) for a quote..
What The Press Say
---
Kitchen Garden
July 2019
Whats New? The latest news, products and facts from the world of kitchen gardening.
Hotbin Wins Top Award - This year's RHS Chelsea Garden Product of the Year Award 2019 has been awarded to the new HOTBIN mini. This is a small, efficient composter which packs in all of the original HOTBIN features into a smaller, slimline unit suitable for smaller urban gardens.
---