The HOTBIN Mega Composter is like no other compost bin on the market, it will quickly chomp through all food and garden waste turning it into rich, organic compost that your green space will love and is available in two generous sizes 450L and 700L.
The innovative design and superior insulating walls create a natural environment which quickly digests the contents, making HOT composting easier and faster all without having to add any composting accelerators or activators.
HOTBIN reduces the amount of waste sent to landfill by composting more types of food waste. Be less selective by composting 100% of all food and garden waste without the traditional composting problems of odour, flies, turning and tumbling.
The science of the HOTBIN Mega bin is exactly the same as the tried and tested HOTBIN and HOTBIN Mini that have thousands of satisfied customers proving that HOTBIN really is a HOT composting bin that works.
You can trust HOTBIN, the HOT composting bin that lets you put more in and you can expect compost every 90 days without forking, tumbling, undue odour or flies.
Expansion Kit: The addition of the expansion kit allows you expand the 450ltr HOTBIN Mega into a 700ltr at a later date.
HotBin Mega Composter
Rich, peat free compost fast in 90 days
More compost - recycle all food and garden waste
Easy to set up and use - no turning or tumbling required
Locate on any even surface - sun or shade
Self-contained bin (with a base)
Better for the environment
No accelerators or activators needed
Works ALL year round
Available in 450L and 700L sizes
Measures 116cm (W) x 86cm (D) x 73cm or 120cm (H)
Self Assembly Required
Please Allow 5 - 15 days for delivery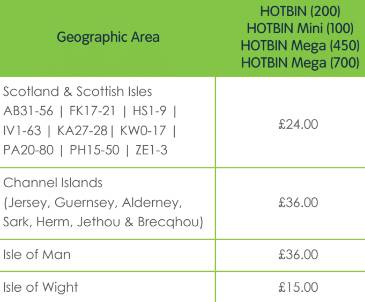 Delivery is free to addresses in England, Wales and Southern Scotland. As the HOTBIN Composter is a bulky item, there will be an extra delivery charge if you live north of the Scottish Central Belt, on a Scottish Island, Isles of Scilly, Isle of Man, Isle of Wight and Channel Islands. Please e-mail our Customer Services Department or telephone us on 0333 400 6400 (local rate) for a quote.
Be the first to write a review for this product.