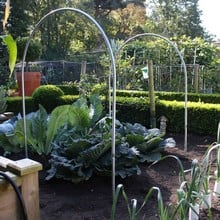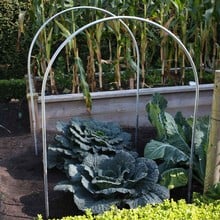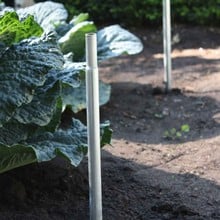 Hoop Extension Kits
£4.95 P&P
These Hoop Extension Kits give your plants up to 50cm of extra height in which to reach their maximum potential and what's more, you can add the simple swaged extension poles to existing hoops as the crops grow - just don't forget to allow for the expansion in the size of your netting
Read More
Exclusive Designed &
Made by us in the UK
3 Working
day despatch
Manufactured from galvanised steel tubing, the 50cm and 80cm long hoop extension poles also help anchor the existing hoop once inserted the recommended 30cm into the soil.
Available in 50cm and 80cm lengths
Packs for 1, 2 3 and 6 hoops available
Manufactured from 19mm tubular galvanised steel
Will fit our range of high top hoops
Double up as a ground anchor for hoops
Swaged so just slip into base of existing hoops
Recommend 30cm of extension pole is inserted into ground
Ideal for taller growing crops such as brussel sprouts
11th June 2018
My tomato plants had outgrown their cloche, and hoop extensions were the perfect answer. Suddenly they had the height they needed, without the expense of taller hoops. Quality is never cheap, but these are really sturdy, like the hoops, will last for ever and take up much less space when not in use. They came very quickly and expertly packed. Thanks, Harrod Horticultural, these were just what I wanted.
8th November 2017
Product as described, very strong and well packaged too.