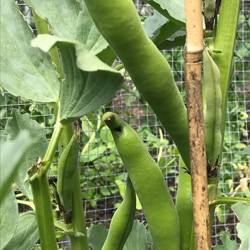 This week has been very productive in the kitchen garden the first of our broad beans have been harvested along with some very juicy strawberries and the rhubarb I feel like a crumble might be on the cards the only decision is cream, custard or ice-cream.
Everything is growing really well and the cauliflowers have finally been planted into their final position. However, we seem to have a very clever pigeon who has learnt how to sneak open the vegetable cage and have a little nibble at one of the plants.
The cage has now been made intelligent pigeon proof and he will have to eat from the bird feeders like the rest of them.
We have lots of baby birds visiting the garden now, lovely to watch but the poor parents are looking exhausted.

The shallots are doing a little too well they have started to bud so will need to be cut back. as they are large I will cut them right back so they can be harvested. You can just cut the flower stalk if they still need to swell.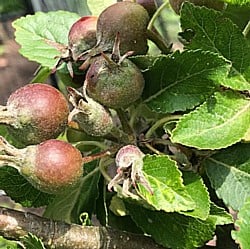 The apple trees are beginning to fruit and are heavily laden so the fruits will need to thinned but strong winds are forecast for this weekend so I will wait to see what nature thins out for me first.

The greenhouse is also doing well and the tomatoes are fruiting nicely, not ready for harvesting yet but lots of potential and the cucumbers are climbing up their poles with vigour.