Aluminium Tubing Natural Finish 16mm
Our Aluminium Tubing forms one half of arguably the most effective garden crop protection frame double act on the circuit and when paired up with the Harrod Slot & Lock® Connectors, these 16mm diameter tubes will allow you to create ultra-stable cages, frames and structures
Read More
Pack Content: Single and Packs of 4
Our Aluminium Tubing forms one half of arguably the most effective garden crop protection frame double act on the circuit and when paired up with the Harrod Slot & Lock® Connectors, these 16mm diameter tubes will allow you to create ultra-stable cages, frames and structures.

Available in various lengths between 0.65m and 3m, there's a definite air of flexibility about the size and shape of vegetable cages and plant support frames you can make out of the tubing and the 16mm diameter tubing fits happily into the Slot & Lock connectors.
There's a choice of single tubes or cash-saving packs of four and with a 1.2mm wall thickness and legendary aluminium anti-corrosion qualities, you can rely on the aluminium tubing to take care of all your crop protection needs.
We also supply tubing caps to prevent water getting into the aluminium tubing - these are available separately and are sold as a pack of 4.
Please Note: Tubing sizes are nominal to allow for insertion into Harrod Slot & Lock® Connectors.
Aluminium tubing supplied in various lengths between 0.65m and 3m
Natural aluminium finish
16mm diameter
1.2mm gauge tubing
Designed for use with the Harrod Slot & Lock® Connectors
Ideal for creating temporary or permanent vegetable cages, crop protection frames and plant support structures
Anti-corrosive
Strong and inexpensive way of creating protective garden cages
Tubing can be cut with hacksaw to exact size desired
Use with angled Slot & Lock connectors to make lean-to or awkward shaped structures
Brace kits available to provide additional strength and stability in windy and exposed areas and in light soil
Tubing Caps available separately - Pack of 4
Product Reviews

1st August 2016
The tubing is good quality and strong. I would have given 5 stars but approximately 4 inches at one end of 3 of the tubes was bent by several degrees which would have caused difficulty fitting to a rigid 3 way connector. I had ordered angle connectors as the bed was asymmetrical so thankfully all was well. However, I was disappointed but anxious to erect the cage to cover butterfly threatened crops so did not want to return them.
18th November 2013
An excellent product,long lasting rust free ideal for any garden staging, used mine with the lock connectors. I had a problem with the connectors i ordered, resolved without any problems
1st November 2013
I recently read an article that described using bamboo poles to support bubble wrap insulation in a greenhouse. As Aluminium is much longer lasting to say nothing of being smooth, I ordered these lengths to do the job. I am delighted to say that it has proved to be an excellent decision. Three poles were first cut to the length of the greenhouse (6ft) and then drilled through at each end to take a wire. These were then attached to the ridge and two lower edges of the roof. The bubble wrap was then threaded up one side over the edge pole up over the ridge pole and finally down and over the other edge pole to reach the floor. This made a perfectly smooth flat finish without using any other pegs or fixings whatever. The end pieces of bubble wrap of course had to be fixed with pegs but as these were done first the job was completed and looks very good.
Pictures of the Mr. Allens Bubble wrap in place supported by Aluminium Tubing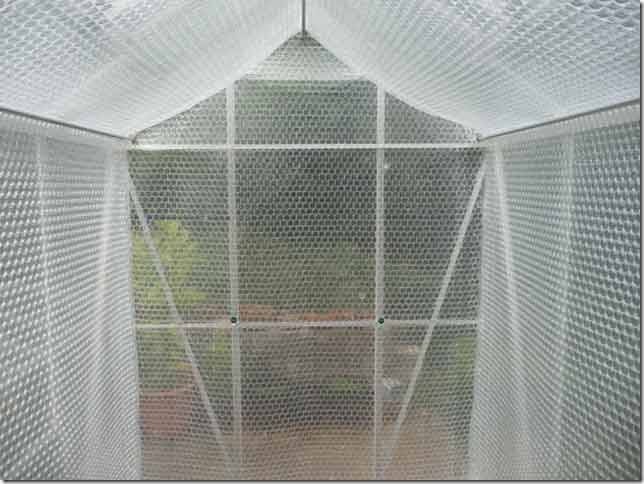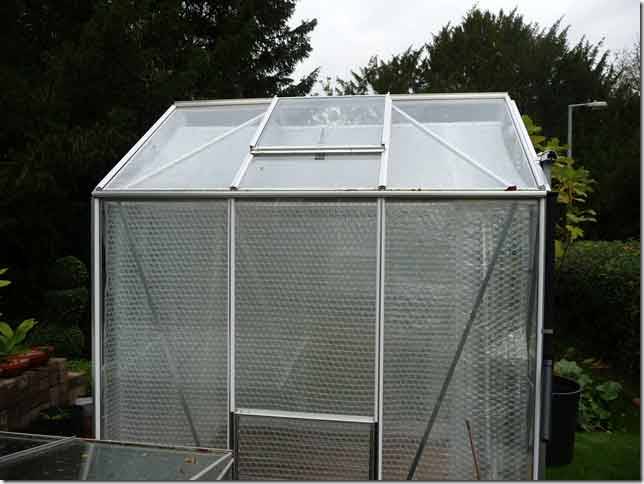 See Buying Options