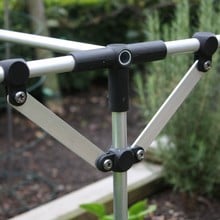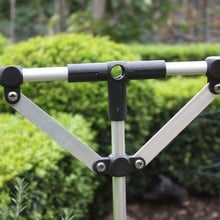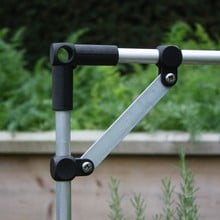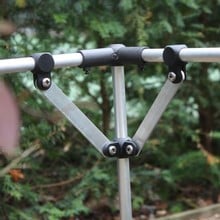 Harrod Slot & Lock® Brace Kits Aluminium Finish
£3.95 P&P
The Harrod Slot & Lock® Brace Kits are ideal for reinforcing your 16mm diameter aluminium tubing vegetable cage and crop protection frames when the weather and light soils are doing their best to make your structure unstable
Read More
Exclusive Designed &
Made by us in the UK
3 Working
day despatch
The Harrod Slot & Lock® Brace Kits are ideal for reinforcing your 16mm diameter aluminium tubing vegetable cage and crop protection frames when the weather and light soils are doing their best to make your structure unstable.
Available as a Corner Brace, Mid Structure Brace and Single Sided Brace, the Harrod Slot & Lock® brace kits consist of diagonal aluminium brace stays and durable cleats which secure to the framework bringing stability and rigidity to vegetable cages of all sizes.
Simply slide your choice of Harrod Slot & Lock® brace kit onto the section of aluminium tubing during assembly of your frame, tighten up the stainless screws and enjoy complete vegetable cage and crop protection frame peace of mind.
Harrod Slot & Lock® Brace Kits available in 3 versions - Corner Brace Kit, Mid Structure and Single Sided
All brace kits supplied in natural aluminium finish
All brace kits supplied as singles
Brace kits consist of aluminium braces and durable cl;eats which secure to the framework
Aluminium diagonal braces give extra strength to vegetable cages
Use with our 16mm diameter aluminium tubing (available in both natural and black)
Ideal for use in windy locations
Adds stability to a cage or frame erected in light or soft soils
Makes larger structures more rigid
Simple to install
Place in position when assembling cage
Can also be retro fitted with little effort
11th June 2016
It looks stable. I'll see what happens when we get strong winds, as it is very exposed.
6th July 2015
I bought two, when repairing two corner connectors, and was so impressed with the increased stability that I added two more. Hopefully I won't have to replace the 3-way connectors again, but next winter will be the big test. Cannot therefore score for product performance. Lessons learnt (1) put the fixing screws for the tube connectors in place before sliding the connectors onto the tubes; (2) use a larger screwdriver for the bolts.
13th April 2015
I purchased these kits for my Harrod vegetable cages on my allotment which is situated on the south coast and prone at times to strong southerly winds. Since the purchase they have had a far test and proven very successful. I will be buying these again in the future for my other Harrod cages on my allotment