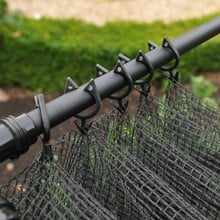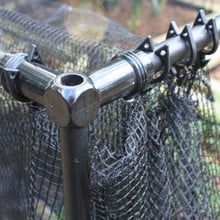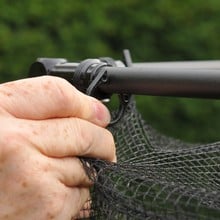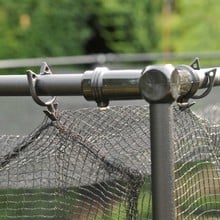 Harrod Netting Frame Saver Clips
£3.95 P&P
These clever netting clips are designed to fit our 16mm aluminium tubing and are used on all our 1.2m & 1.5m vegetable cages and detach from the frame in extreme winds and snowfall, saving the framework.
Read More
The Harrod Frame Saver Clips are easy to use, simply hook though the netting mesh and then clip onto the cage framework. The clips act like a curtain rail fitting over the top rods of the cage and slide easily for quick access to the cage and equally quick closing to protect you crops.
The clips also make the 1.2m and 1.5m aluminium vegetable cages extreme weatherproof. High winds and snow accumulation on the cage will cause the netting to detach from the framework so it can safely fall to the ground, still protecting your crops but without damaging or deforming the cage.
Makes vegetable cages windproof and snowproof
Creates easy access to vegetable cages
Easy to use
Netting can be easily drawn along the cage top rods
Fits 16mm aluminium tubing
Can be fitted retrospectively to our 1.2m & 1.5m vegetable cages
Supplied in packs of 12
Innovative design - patent pending GB1319295.0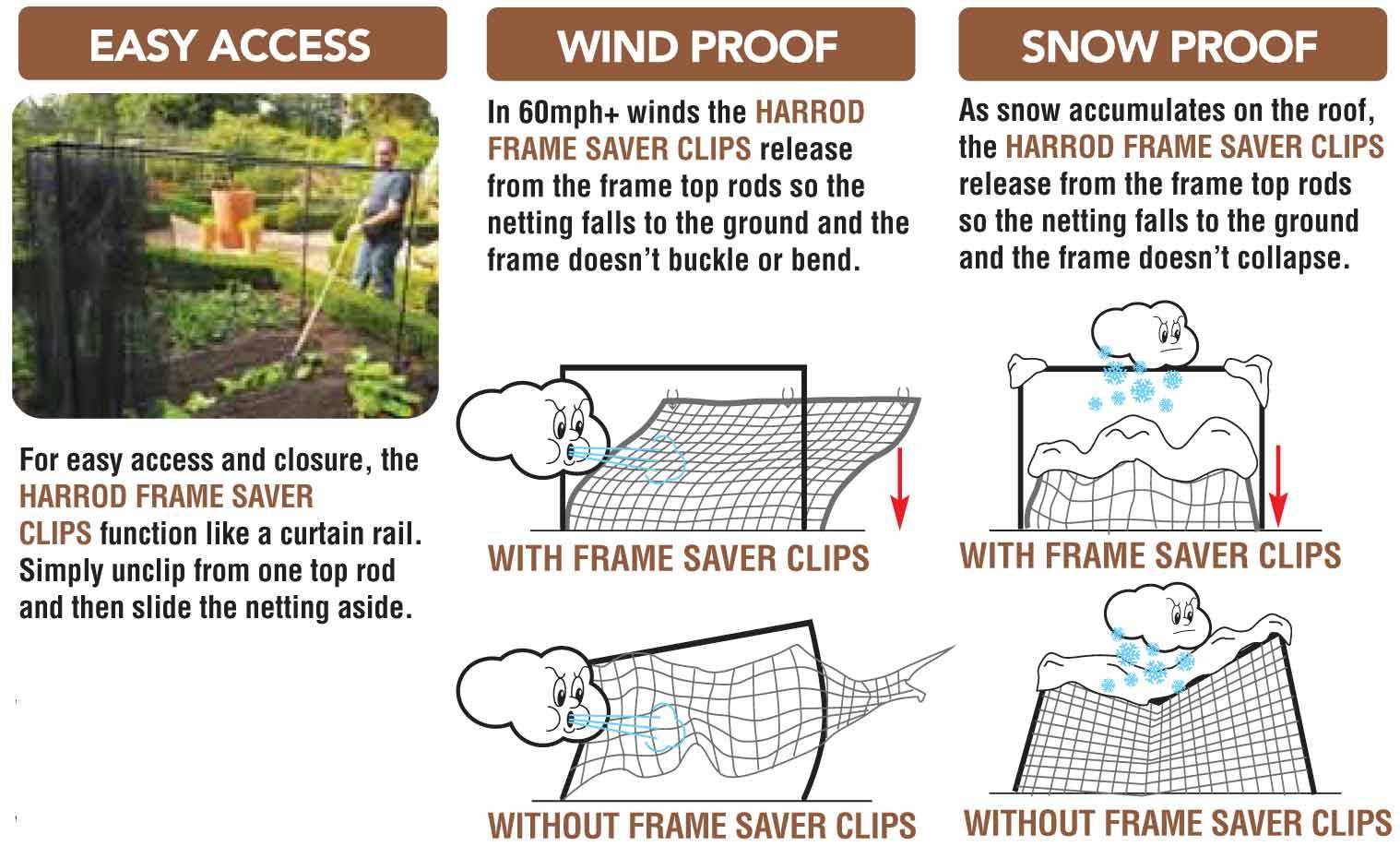 10th March 2018
These work well and save damage to metal frame structure. BUT, as others have pointed out, they come detached too easily when net comes off so replacements are needed as hard to find on ground. It would be much better if these were made in bright yellow or orange plastic, at least as an option, so they are easier to find. Dunking in white paint or attaching bright ribbon will work, I am sure, but really one should not be having to do this. I have suggested coloured plastic to Harrod but this was ignored. Poor show!
Many thanks for your review, your comments have been passed onto our R & D Dept.
We do agree with that the clips can be difficult to see if they fall onto the soil but they would usually be found near the edge of the netting.
Although it may be more practical if they were a brighter colour, unfortunately the look of the cage would not be as aesthetically pleasing as is is now with the black frame saver clips.
We are however, happy to replace any clips free of charge that have been lost in the soil.
22nd July 2017
I bought these for my slot and lock cage as during recent high winds I found the netting on the floor. I added an extra 30 clips to stop it coming off so easily. This included attaching them to the uprights. The clips can be tricky to push through the netting and do sometimes become detached from the netting side rather than the rail. However, all in all they do the job.