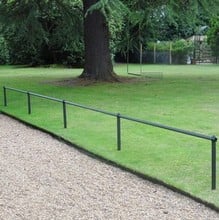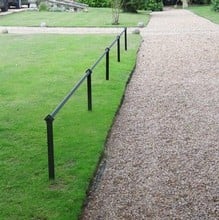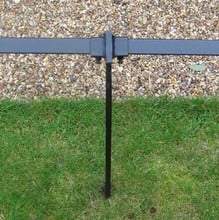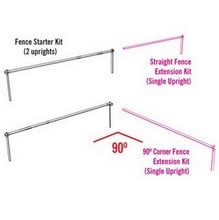 Harrod Low Boundary Fencing
£14.95 P&P
The Harrod Low Boundary Fencing is a long lasting, maintenance free solution for securing boundaries or lining driveways made using fully galvanised steel, powder coated matt black and comes with a 10 year guarantee
Read More
10 Year
Framework
Guarantee
Exclusive Designed &
Made by us in the UK
3 Working
day despatch
Ideal for lining driveways, protecting grass verges and marking boundaries this low boundary fence is supplied in 2m starter kits, 2m extension kits and corner extension kits to create an attractive fence.
The low fence uses extra strength upright posts manufactured from 40mm x 10mm flat bars with an integral guide tube and fixings to lock the top crossbar in place. The posts stand 0.45m out of the ground with 0.45m going below ground for stability. Premium quality matt black powder coated 25mm square x 1.5mm thick heavy duty crossbar spans between uprights.
Begin with a 2m fence starter kit that features 2 upright posts and a crossbar. Then to achieve the required distance, link as many 2m extension kits (1 upright and 1 crossbar) as you need. To go round 90o corners, simply select the Corner Extension Kit which also covers a 2m span.
Designed and Manufactured by us in the UK
10 year framework guarantee
Fully galvanised steel powder coated matt black for maintenance free finish
Starter Kits measure 2m long and come complete with 2 uprights, 1 crossbar and all fixings
Straight Extension Kits measure 2m long and include 1 upright, 1 crossbar and all fixings
90o Corner Extension Kits also measure 2m long and include corner connector, 1 upright, 1 crossbar and all fixings
Extra strength upright posts - 40mm x 10mm flat bars
Uprights stand 0.45m out of the ground and insert 0.45m into the ground for stability
Crossbars fit through guide in uprights and can be securely fixed in place
Crossbars 25mm square x 1.5mm thick steel box section
Centre to centre distance between uprights is 2m as standard
As this is a 'Made to Order' product delivery is approx 3 weeks
Self assembly
If you are interested in any different heights or sizes please contact our Made to Measure team:-