Designed and Made in the UK by us, the border restraints are manufactured using strong 6mm galvanised steel wire and come with a 5 year guarantee. The steel wire is powder coated dark olive green for a long lasting, weatherproof finish and also to make them unobtrusive when positioned in the border.
Designed to stop plants and bushes flopping over pathways and lawns, these strong plant supports are available in a range of sizes and being quite 'springy', they can be widened or contracted to fit perfectly. The border restraints are easy to install by simply pushing into the ground and can easily be moved as your needs change throughout the season.
Ideal for edges of pathways and grass
Helps shape and restrain annuals, perennials and small shrubs and bushes
Last season after season
Flexible and easy to adjust
Powder coated Dark Olive Green to merge seemlessly into the background
5 Sizes Available - 30cm, 40cm, 51cm, 75cm & 100cm
5 year guarantee.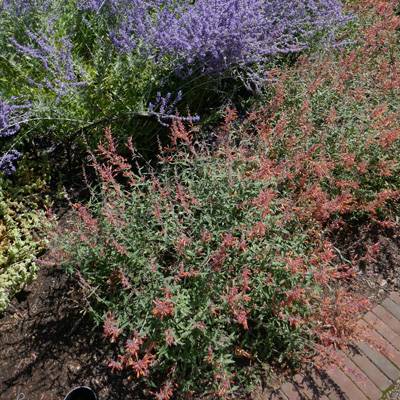 Perovskia and Agastache examples showing how these plants can require support when growing.
11th May 2022
Very sturdy and easy to use. Can be inserted after the plant has grown. I have all sizes now. Price increases mean they are not such good value for money as they used to be though.
20th June 2018
Easy to use because they are so strong and don't flex when pushed into the ground - unlike other brands. Great discreet plant support.