Harrod Build Your Own Node Wall Trellis gives you great flexibility to create your own wall trellis to perfectly fit your space, using solid steel bars and our innovative wall nodes, this stylish trellis system is made to last and comes with a 10 year structural guarantee.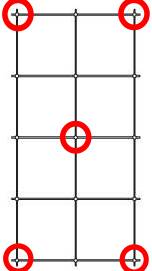 The wall trellis nodes (patent pending GB:1621461.1) are required where the steel bars intersect and enables an infinite number of wall trellis patterns to be created and can be easily adjusted as the nodes can be fitted anywhere along the steel bars. Not all the nodes need to be fixed to the wall to create the trellis.
The example shown would require 15 nodes to secure the steel rods and the 5 highlighted would be fixed to the wall.
The steel framework is made using our 8mm diameter thick solid steel rods that are powder coated matt black for a classic and enduring finish that will outlast timber alternatives.
Any number of vertical and horizontal bars can be secured and wall mounted using the nodes which clamp onto the bars at intersections. They will also clamp on individual bars that could be mounted in 'rails' without creating a grid with intersecting bars.
The nodes fix securely to the wall to create your wall trellis, but you can also create your trellis and secure this to the wall using our wall brackets. These can be fixed to the wall and the trellis is then hung from these brackets in situations when the nodes can't be secured to the wall or if you want to be able to easily remove the trellis.
The steel bars are available as single bars or in saver packs of 5 bars and in 6 lengths - 0.3m, 0.6, 0.9m, 1.2m, 1.5m and 1.8m. Nodes are supplied in packs of 5 and optional wall brackets and fixings are supplied in a pack of 4.
N.B. The Nodes are supplied with screws and wall plugs for wall fixing, but not every node needs to be fixed to the wall. Main image shows the trellis secured in 5 places.
Harrod Build Your Own Wall Trellis System - UK Design & Manufactured
10 Year Structural Guarantee - outlasts timber trellis
Trellis uses our innovative nodes & solid steel bars
Nodes available in packs of 5
Solid steel bars powder coated matt black for classic, weatherproof finish
Single bars or packs of 5
Bars available in 0.3m, 0.6m, 0.9m, 1.2m, 1.5m & 1.8m lengths
Spacer measures 2.5cm
Optional wall bracket fixings available separately
Ideal for climbers like rambling roses and honeysuckle
Standard Trellis Kits are also available in a range of sizes.
27th October 2023
Looks good against our stone and cob outbuilding. Much stronger and longer-lasting than canes or wooden trellis would have been. I was able to make it fit the gap perfectly.
13th November 2018
I used the 120 cm poles in a grid over a mirror I was installing at the same time with the screw and intermediate nodes options. Installation was definitely a two person job to ensure you drilled the holes for the screws in the right place to get it square, level and the nodes lined up. You need to get your head around the assembly and orientation of the 2 types of node before you start fixing them and I feel the instructions could be clearer on this point. The hanging bracket option would be easier to install but wasn't feasible in my case due to the mirror. The end result looks great just what I wanted in a custom size that fits the space