The Harrod Node Trellis System Kits, designed and manufactured by us in the UK, are available in a range of sizes, in either narrow or wide spacing styles, perfect for fixing to walls and fences to support your climbing plants.
Our unique metal garden trellis design uses steel rods which are secured in place with our innovative nodes. The nodes can be fixed to a wall or fence and secure the rods in place where they intersect. Each node is secured in place with supplied fixings and comes with a cover cap for a discreet finish. The steel trellis framework is made from 8mm diameter steel rods which are powder coated in matt black for a classic and enduring finish. The framework comes with a 10 year structural guarantee.
The kits are available with either narrow or wide spacing between the vertical bars and are supplied in various widths from 0.3m to 1.8m and come complete with all fixings. Narrow Trellis vertical bars are spaced approx. 25-30cm apart depending on the trellis kit size, with the wide trellis kit size the vertical bars are spaced further apart approx. 40-60cm depending on the trellis kit size.
Harrod Node Trellis System Kits
Designed and manufactured in the UK by us
Features Innovative Nodes for securing the trellis rods in place
Kits supplied with all steel rods and nodes to create the trellis and fixings to secure to wall or fence
Kits use strong 8mm steel rods
Steel rods are powder coated matt black for a long lasting finish
10 year structural framework guarantee
Narrow & Wide kits available
Various size kits from 0.3m wide to 1.8m wide
Narrow kits spacing of vertical rods 25-30cm
Wide kits spacing of vertical rods 40-60cm
Spacer measures 2.5cm
Secures to wall and fence
Optional wall/fence fixing brackets also available allowing trellis to be hung in place
Ideal for climbers such as rambling roses and honeysuckle
If you can't see the size you are looking for we also have a Build Your Own Wall Trellis System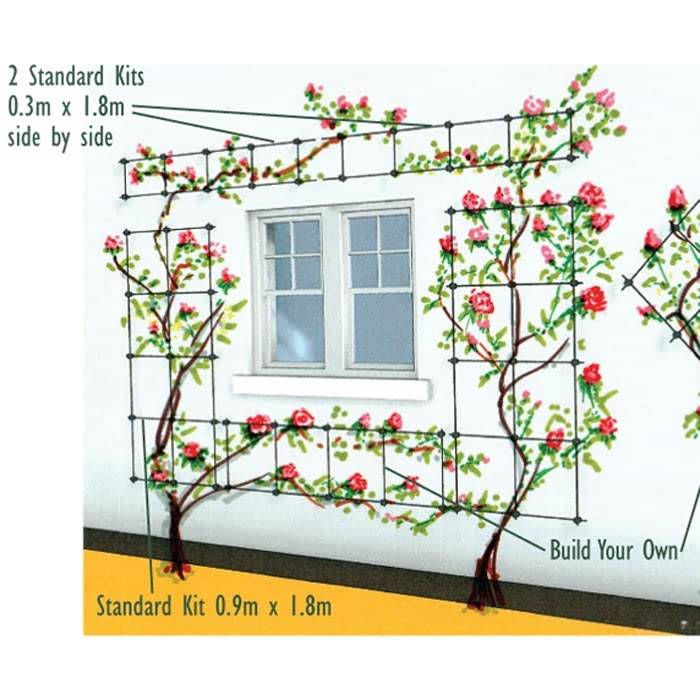 Please note:
This trellis is designed to support plants and assist with their climbing habit.
It is not designed as a load bearing device and should not be used for heavy loads.
Don't suspend heavy objects or apply forces axially along the trellis rods.
10th September 2022
The trellis we bought for our roses to climb came in an initially imposing very large tube but once unpacked it was straightforward to assemble, the instructions were clear and simple. A word of warning, it's rather big once assembled, putting it up is definitely a two-person job I reckon. The roses have easily latched onto it and are growing skywards.
5th July 2022
Be sure you understand how this trellis system assembles. I thought that my two 5x6 panels would arrive already assembled, instead they arrived in a large 7ft cardboard tube which was very heavy. Once unpacked and having read the instructions carefully a few times It was a very simple system to fix and provides a strong, long lasting profeshional support system, well worth the money.
4th April 2022
I was looking at options to create a vertical wall garden. This seemed to be a cheap way to do it and I was imaging hanging several plants on the trellis. However only on receiving the product and reading the instructions did it say it was not for holding weight. I also realised on arrival it would take a long time to set up - I would have to carefully measure and drill into the wall several nodes. Which is why on reflection I ended up paying £15 to return. As it doesn't say this at all on the product page, I wanted to pass on this warning to others.
Thank you for leaving your product revew. The node system will take the weight of normal/typical climbing plants (roses, honey suckle, ivy, clematis etc) if properly fixed with screws provided to the wall. However, it is not designed as a load bearing device and should not be used for heavy loads.
Many thanks again for your feedback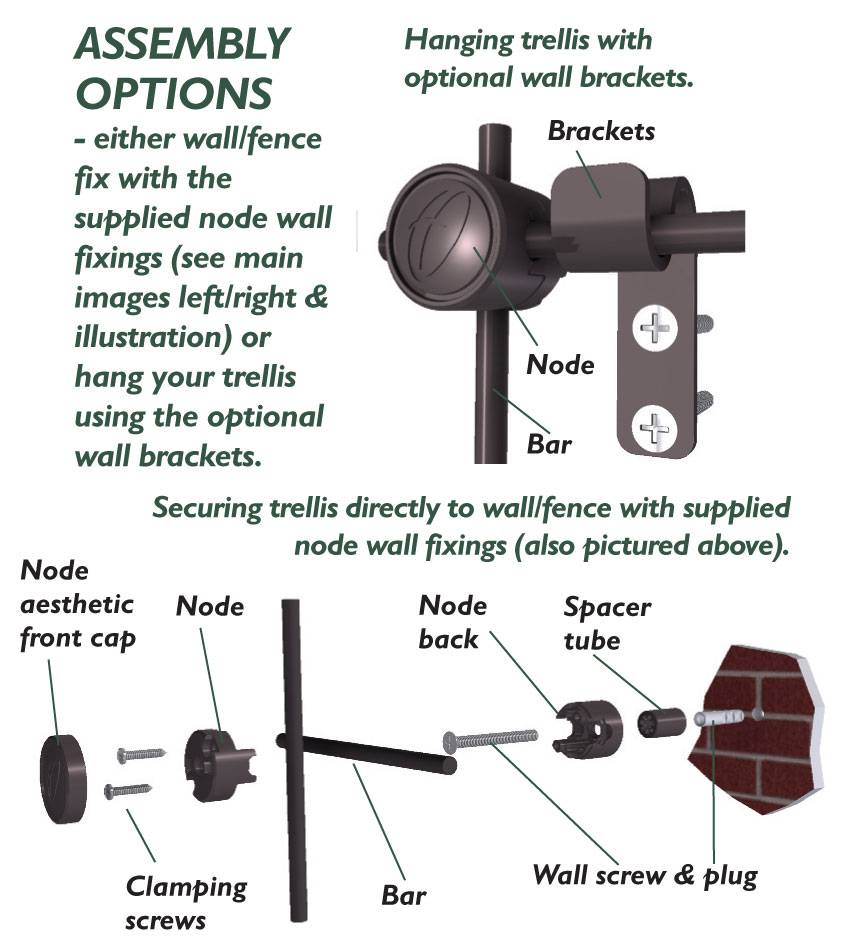 What The Press Say
---
Grow Your Own
July 2018
GRO- must haves
Harrod Trellis system kits are exclusive to Harrod Horticultural in the UK. The steel rods and nodes are perfect for fixing to walls and fences to support climbers, fruit and vegetables. Available in a range of sizes from 1.3m - 1.8m in narrow or wide options.
---