The Harrod Blacksmith's Fence is a versatile fencing system ideal for protecting a kitchen garden with the addition of rabbit wire, dividing a long garden into themed rooms, fencing off a pond or simply use to define a boundary.
This strong steel fencing is designed and manufactured by us in the UK using 16mm solid steel rod with the horizontal bars spaced to a classic estate fence pattern. The vertical rods all feature a 5cm ball finial for a decorative finish to the fence.
This fencing system is supplied as panels, each measuring 1.2m long x 90cm high, which simply link to each other using a robust 'pin and eye' connection. This allows a run of panels to be linked in a straight line, at right angles or to weave around boundaries or features. The fence can also cope with slight changes in level due to the length of the linking pin.
There are also separate occasional gate panels available which have an additional low level floor bar to allow rabbit wire to be attached. These fit identically to the other panels and are just lifted to hinge open and close. If the gate is in constant use we would suggest our Estate Fencing Gate.
The fence system is available in 2 finishes - Natural Rust, supplied as plain steel which develops an even rust patina over time and classic Matt Black, high temperature powder coated for a long lasting weatherproof finish.
Exclusive - Designed and Made by us in the UK
10 year structural guarantee
All panels are one piece fully welded
All panels measure 1.2m long x 90cm high (above ground to top horizontal bar) 1.1m high to the top of the ball finial
Hand made from 16mm diameter steel rod
Fence uprights feature 5cm diameter ball finial
Fence panels have classic estate style spacing
Occasional Gate features additional lower bar
Panels simply link together with 'pin and eye' connection
Available in Natural Rust and Matt Black
Available as separate fence panels and gate panels
Panels insert 50cm into ground
Suggest concreting in place for extra stability
Section off garden areas, fence off a pond or protect a kitchen garden
Attractive boundary fencing
Optional Hole Former also available - makes it easier to insert the uprights into firmer ground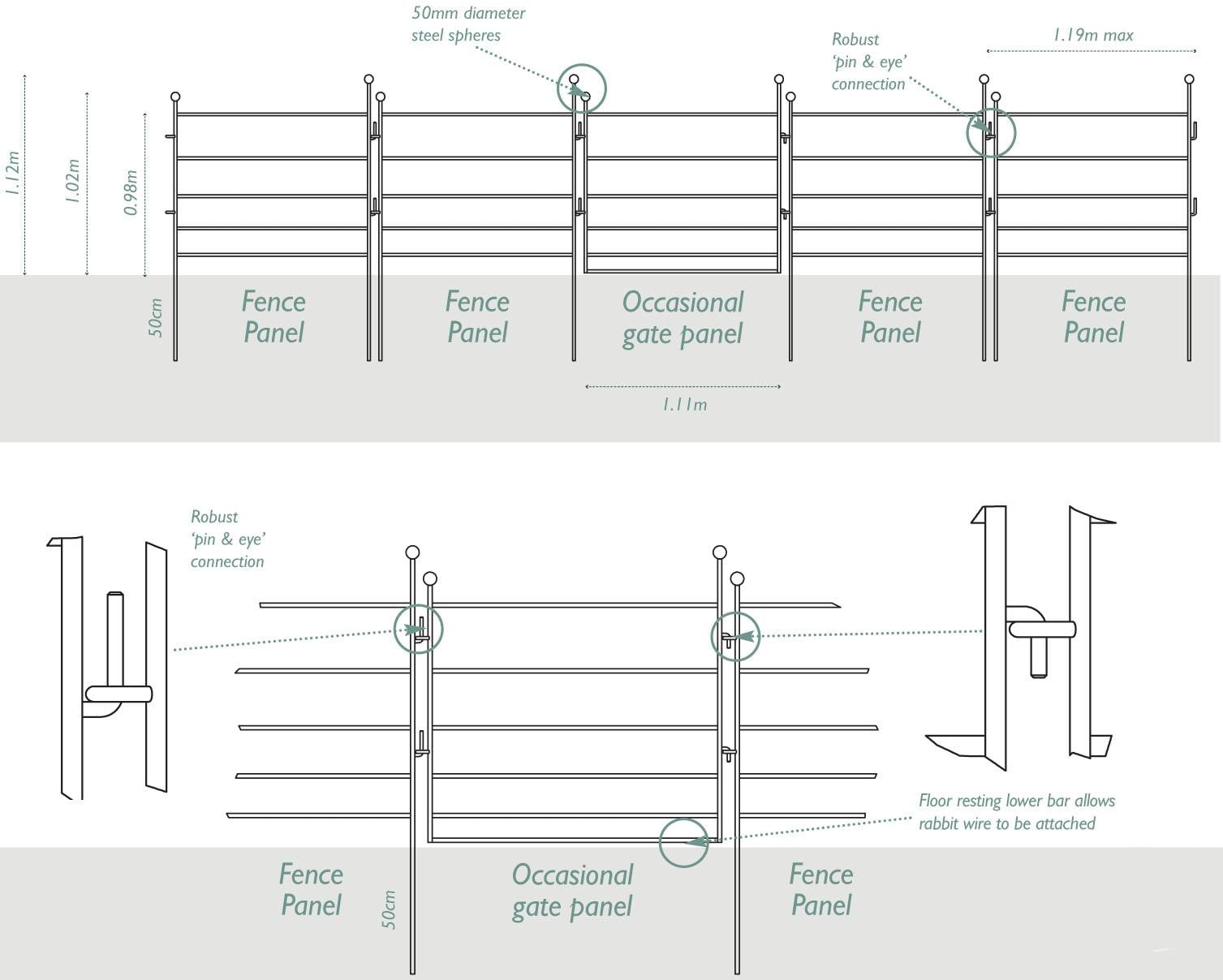 Be the first to write a review for this product.