Over the years we have worked closely with private customers; landscape architects; garden designers and landscapers to deliver wonderful individual bespoke designs.
There is no pressure or obligation at any stage, just the assurance of a thorough and professional approach throughout every step of your bespoke garden project; from design and manufacturing to delivery and customer care.
Whether it's customising a Harrod structure to suit your needs or configuring a number of Harrod structures together to fit a scheme or realising the vision of a bespoke concept, our dedicated design team have the innovation and experience to make it a reality.
We can present you with a CAD (Computer Aided Design) drawing to help you visualise your project and the dimensions before sign off to make sure you are making the right choices. For more complex projects, we will interpret concepts into detailed drawings with multi-faceted views for consideration and final approval. Why not browse some of these example designs today they may just give you some inspiration for your next gardening project.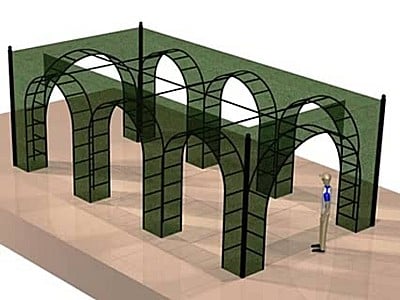 You can complete our online quotation form or give us a call on 0333 400 144 and our personal made to measure design and consultation team will be able to discuss your full requirements before producing a final product vision with full specifications and costings.
To view some previous design drawings we have created for some of our customers you can view our Design Gallery for more inspiration or take a look at some of our completed Customer Projects