Another long Bank holiday weekend is upon us and the weather looks like it's going to perfect for gardening!
We are going to be making the most of the time to continue planting out our summer crops. Our courgette, squash and bean plants are currently taking over the cold frame and are ready to be planted outside. Our courgettes will be planted in full sunshine in one of our metal raised beds, with an empty plant pot sunk into the earth beside each plant for easy watering and feeding throughout the growing season. They already have some flower buds so we will start feeding them with a liquid seaweed feed as soon as they are planted and continue this weekly.
We have grown three different varieties of squash this year; Butternut, Jaspee du Vendee and Cream of the Crop. Each variety will be grown up an obelisk in different spots around the Kitchen Garden. Growing them as a climber not only gives an amazing visual display, it also keeps the fruits off the ground preventing rot. As with the courgettes, they will have a sunken pot at their roots and enjoy the same feeding regime.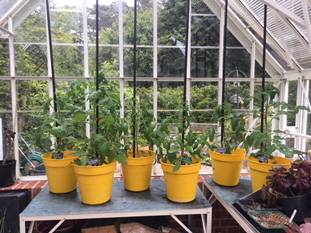 Inside the greenhouse our plants are looking healthy and growing fast! The first flowers have appeared on our tomatoes which is a good indicator that it's time to begin feeding them. This week we will begin feeding them with a liquid tomato food on a weekly basis, along with the chillies, peppers and cucumbers growing alongside them.
Most of our plant feeds are administered weekly and we have a designated day of the week when we do this to make sure we don't forget.
Other feeds, such as fish, blood and bone or treatments like nemaslug are applied on a six weekly basis, so it's a good idea to have a calendar or diary to make sure you know when the next one is due. This also helps with successional sowings of crops like salads to write down the dates that seed batches were sown and when to sow the next one. It is really useful during busy times, to have a record to refer to.
We are forecast some showers over the weekend, but should they not occur, we will be out with the watering can in the early morning to water our pots and newly planted crops each day, especially if it is very hot and sunny. More established crops, such as our brassicas, peas, garlic and onions, are given a thorough soaking once a week.
So far, other that the occasional white butterfly, there are no signs of any pests or diseases around the garden, but we will be keeping a close eye out so that we can control any attacks in the early stages before any significant damage is done.
And of course, we will be harvesting. We are still picking huge amounts of rhubarb, spinach and salads. We have had our first asparagus spears and are about to harvest out first sprouting broccoli of the season.
Happy Gardening!