The long August Bank Holiday weekend is upon us and the forecast in our area is for hot and sunny weather. Crops are ripening ready for picking in vast quantities and we are in the throes of our annual bean glut.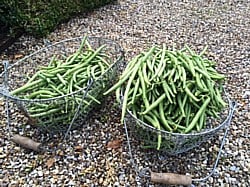 The plants are thriving in the fertile soil created by the trench dug over the winter and filled with kitchen waste, plenty of water, a weekly seaweed feed and the warm summer weather. It is really important to pick the beans regularly to prevent the plants going to seed and to keep them cropping.
Our tomatoes, plums and blackberries are also producing an abundance of fruit at the moment. When friends arrive for the bank holiday barbecue at the weekend, they may be sent out to harvest with the promise that they can keep what they pick!
With the warm dry forecast, we will be continuing the watering and feeding regime. My favourite time of day to water is in the evening, but I often get out early in the morning to water before the sun hits the garden as well. Our squash and courgette plants have 2 litre plant pots sunk in the ground at their roots which we fill with water every day, and include a seaweed feed root drench once a week. So far, they are thriving and the fruits are swelling nicely.
All around the garden, plants in pots will benefit from a daily water. Whilst the hose is easier, I prefer a watering can so I can add feed and know how much water the plants are getting. Its good exercise too and a lovely job for a warm summer evening.