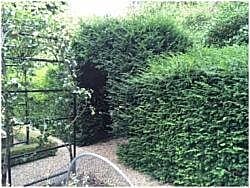 Last week was certainly a week of a mixture of weather. Monday was another warm, dry day and being able to get into the shade was wonderful but the lavender bushes all needed their Autumn trim. When you have quite a few the use of a petrol hedge trimmer is brilliant, remembering to take the new growth right down to where the old wood is, so next year you will get good healthy growth and flowers. Some people hate the strong smell once you have cut the lavender but I love it, and brings back many happy memories.
The tomatoes in the greenhouse are still ripening, helped along with a weekly feed of organic fertiliser and the cucumbers and aubergines are the same. Elsewhere in the garden the squashes are still swelling in size, so hopefully by the end of September going into October there will be a bountiful supply. The runner beans are refusing to finish, I have been able to pick loads of lovely tender beans.
Wednesday was a day of rain, which is still much needed in the garden. It was a delight watching from my potting shed the tit family squabbling over the nuts that I had hung in the bird feeder on the obelisk, the great tits fighting off the smaller birds.
September is the ideal month to prune evergreen hedges and get them neat and tidy before the winter. Hedges trimmed now are unlikely to put on any significant growth before the cold weather hits us, so they will stay looking crisp for the months ahead.
Stephanie's Kitchen Garden is surrounded by a large yew hedge, which helps create a microclimate ideal for growing fruit and veg. During the summer months, it serves as a back drop for all of the lovely plants that it surrounds. Almost unseen, it slowly puts on growth until suddenly, as we start to clear the crops, it is revealed and it becomes apparent how untidy it has become. Once clipped, it will become a structural focus in the garden again providing winter interest and a home to birds and wildlife.