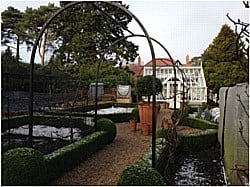 Here at Stephanie's Kitchen Garden this week keeping our wild birds well fed through the worst of the winter weather. Whilst some birds are unwelcome in the kitchen garden, others are helpful when it comes to pest control.
During the winter, we treat our little visitors by keeping our birdfeeders well topped up with seed. It always raises the spirits on cold dark winter days to be kept company by the birds on the feeding station. Every gardener should have their very own friendly Robin.
We will also be completing our new espalier apple supports. Over the past few weeks we have been putting up linked hoop arches to replace the old wooden supports. This week we will complete the project by adding the remaining gripple wires and the arches will be finished ready for the new apple season. We will also be adding glue bands to the new supports to stop the pests using them as a ladder into the trees.
This week in Stephanie's Kitchen Garden we will be harvesting leeks and parsnips.