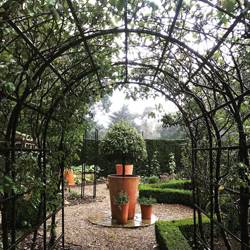 We have finally had some proper rain and everything in the garden is looking very grateful.
This week we have been starting the autumnal jobs around the garden. In the kitchen garden we have hoed all our beds to keep the weeds down, ofcourse with all the wet weather this isn't the easiest of tasks and weeds will soon sprout up again. Especially as the temperatures are remaining reasonably warm and the sun is managing to heat the soil.

We are still getting a good harvest from the kitchen garden, we have picked Blackberries, Spinach, French beans, Runner beans, Silver beet leaf, Raspberries, Chillies, Peppers long and bell, Tomatoes and Apples.
The freshly planted Spinach, Pak choi, kale and Sprouting Broccoli seem to have really picked up now and there is no sign of any slugs so the Nemaslug is working well.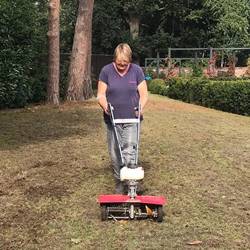 Elsewhere in the garden the lawns are getting some much-needed attention. Our large main lawn has really suffered from lack of rain this year and the felling of the large cedar tree. So it has been scarified and a fresh new layer of compost spread over the top and lots of grass seed has been applied. If we continue getting this rain and then sunshine weather it should sprout in no time then we have just got to keep our fingers crossed that next year we will get more rainfall than this year.
The lavender and roses are having their autumn prune to keep them looking tidy and encourage new growth for next year. We have been giving a feed of fish, blood and bone as we go around the garden to ensure the plants stay healthy and give the best possible blooms next year.