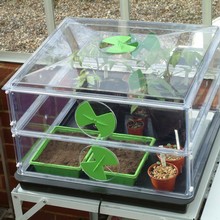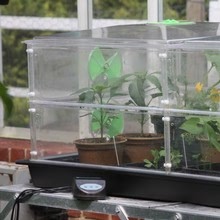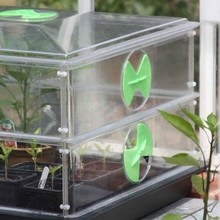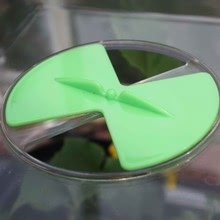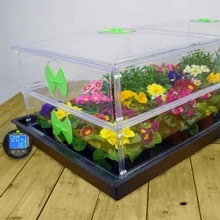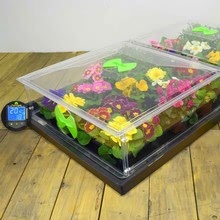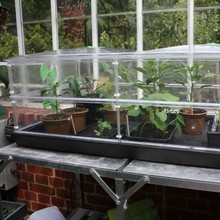 Vitopod Heated Propagator
£4.95 P&P
The Vitopod Propagator is a large electric heated propagator, a mini greenhouse and a cold frame all wrapped up into one - it possesses a range of high specification features, making it the most talked about propagator amongst gardeners
Read More
3 Working
day despatch
The Vitopod Propagator has recently been voted 'Best Buy' by BBC Gardeners World maintaining it's position as one of the most popular and widely acclaimed heated propagators on the market.
Offers more control than any other propagator - temperature adjustable to 1°C within a range of 5°C to 30°C
New and improved thermostat controller with a large display and push button controls
Add height with layers for the various plant growth stages
Generously sized air vents
Several size options available:
Single Length, Single Layer (56cm L x 55cm W x 24cm H)
Single Length, Double Layer (56cm L x 55cm W x 39cm H)
Double Length, Single Layer (111cm L x 58cm W x 24cm H)
Double Length, Double Layer (111cm L x 58cm W x 39cm H)
Single Length Height Extension (56cm L x 55cm W x 15cm H)
Double Length Height Extension (111cm L x 58cm W x 15cm H)
Plug lead length approx 90cm.
27th March 2018
Had vita pod for several weeks during bad weather. It performed well and all seeds and seedlings doing well. Wish I had bought it sooner and had purchased larger one
29th May 2017
Excellent quality and easy to use and great as the temperature is very good in the early season - but later in the season it can't lower temperatures once the max is reached - so suggest you run it on timer
Ten great things about the Vitopod

1. Reduce energy use – only heat the plants, not the entire greenhouse. Everyone knows that's cheaper!
2. Don't lose your prized plants to the winter – protect the tender plants you spent all summer caring for. If you choose the heated Vitopod you can select any temperature between 5°C – 30°C and keep your plants warm without 'cooking their roots'.
3. Extend your growing season – keep growing when the weather starts to turn cold by putting even tall plants in a double or triple height Vitopod to protect them from the harsh conditions. Start the season earlier without worrying that the spring might be late - if you start early and spring arrives late just add extra height to the Vitopod and your plants will continue to grow without running out of 'head' space.
4. Propagate more successfully – precise temperature control, even heat distribution, large vents for humidity control and a perfect height all combine to make it easy for you to raise great plants from seeds and cuttings.
5. Reduce your clutter – Vitopod helps you propagate, harden off and protect plants through the winter – just one product for three jobs. And it all flat packs away for those rare moments when you're not using it. That's great news for your minimalist family members.
6. Look gorgeous – its crystal clear good looks mean that Vitopod looks the part even in the most stylish of homes, so even non-gardening family members won't mind you using the Vitopod indoors.
7. Stay beautiful – Vitopod is resistant to UV deterioration so it won't yellow and it's made from a durable, slightly flexible material so that there's less risk of it breaking when you drop it on the greenhouse floor or patio.
8. Save money – buy just one product for propagation, hardening–off and winter protection, use less heating and raise plants from seeds and cuttings instead of buying expensive young plants ready for planting out.
9. Have more fun – many gardeners and growers agree that starting plants from cutting or seed is the most rewarding aspect of growing.
10. Raise plug plants more successfully – BBC Gardening expert Steve Brookes recommends that even plug plants should be placed in a protective environment like the Vitopod before planting out so that they can be gradually introduced to life outdoors.
What The Press Say
Grow Your Own
November 2018
Tried & Tested - Winter Sowing
This award-winning heated propagator will enable me to grow and propagate plants right through the depth of winter. I've brought mine indoors so that I can keep an eye on my plants, but it would work equally well in the greenhouse or potting shed if electricity is available. It can be built up to three tiers high, giving plenty of space to some of the taller plants. And the Vitopod's thermostat can be set to any 1 degree between 5 and 30 degrees to meet the exact needs of your plants. There are also plenty of ventilation holes to maintain air flow and avoid damping off problems.
Grow Your Own
March 2018
Tried & Tested - Sowing Kit
This large Propagator is ideal if you want to grow lots of plants and offers brilliant value for money. Being able to build the sides up to three times its height, provides you with practically a mini greenhouse which can protect taller plants. Like the geopod, it is thermostatically controlled, providing up to 30 degrees of heat. Furthermore there are plenty of vents, ensuring that the air continues to circulate and helping to prevent a build up of fungal diseases. I love this propagator and think it is perfect for professional or amateur gardeners. 5***** for Value, Durability and Practicality!