5 benefits of having a boot room in your home
With winter fast approaching, we want you to be able to enjoy any outdoor adventures that you may decide to embark on, without the worry of mud scattered throughout your home. Our boot room range provides somewhere to store those dirty wellies, jackets and brollies to ensure the outside comes off before you fully transition to the interior.
What is a boot room?
Typically, a boot room is an area in a house that acts as a barrier between the outdoors and indoors. Particularly in regions with wet, muddy winters, this small room can be a useful addition to any home, regardless of size or location, as it aims to help keep the house clean despite foot traffic.
Love the idea of a boot room but feel as though you don't have the spare space? Not to worry, you can add a welly boot stand, coat hooks and shoe racks to an existing utility, or simply dedicate an area of the hallway.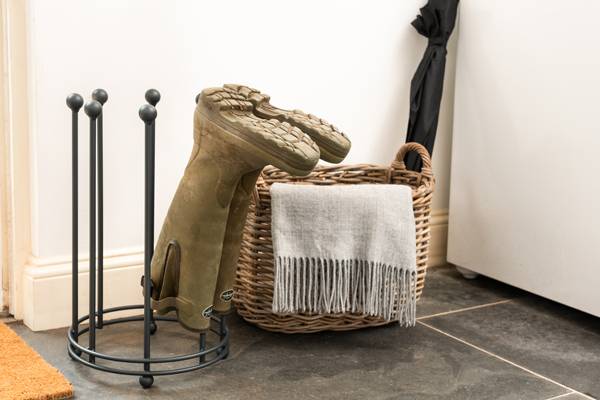 Keeps the house clean. Considered by most to be the main purpose of a boot room. All of the dirt and grime that would typically end up in the hall or living room is now contained to the boot room, where it can swiftly be taken care of. By removing shoes and wiping muddy paws before entering the house your carpets will hopefully stay clean much longer.
Somewhere to hoard the piles and piles of shoes. Shoes can be a major hassle to both organise and store. Even more so when there are many pairs to find a home for. Shoe racks will make it easier to manage footwear and save you from wasting time looking for a misplaced wellie boot or trainer. Storing only season-appropriate footwear in your boot room will also save time on those busy mornings. Don't forget the essential boot jack by the door to aid in removing shoes/boots with ease.
Extra storage. Something every homeowner seems to always need more of is storage. A boot room expands your current storage options, providing much-needed space for all of those hard to store items such as brooms, mops, vacuums, cleaning supplies, dog food and accessories. In addition to the excess coats, scarves, waterproof outerwear and umbrellas.
Multi-functional. Depending on the size of your boot room and where you decide to locate it, it can have multiple purposes. With larger rooms, you can store seasonal equipment for the garden, or perhaps create a home office area. Useful now more than ever, a desk will create a quiet workspace away from the hustle and bustle of the main living areas. Adding a boot room to an already established utility will provide easy access to taps for particularly dirty paws and shoes.
A simple addition that can enhance your home. Whether you're utilising an existing room,a lobby, or perhaps even a section of the hallway, boot rooms are an easy yet valuable addition to any home. It's a small change that can make a huge difference.