STEPHANIE'S KITCHEN GARDEN UPDATE SEPTEMBER 2009

You could say that September is the time of the year that the kitchen garden takes centre stage. Why? Well, there's produce to harvest on a daily basis; some of the 'big name' vegetables are in full flow; a few crafty little late season catch crops can be pushed through and the garden looks blooming good on the back of some decent summer weather. Yes, the garden is certainly in the spotlight this month. Hogging the limelight even.

But that's more than enough stage-based allusions! It's not only me who thinks the kitchen garden is the bees knees at this time; a film crew agreed and popped in for a few days marvel at the tomatoes I've produced; I've been busy pulling carrots, cutting squashes and generally enjoying the horticultural profits from our winter my spring 'investment'. To find out more about the garden's big screen debut and how plentiful a harvest I'm enjoying, read on...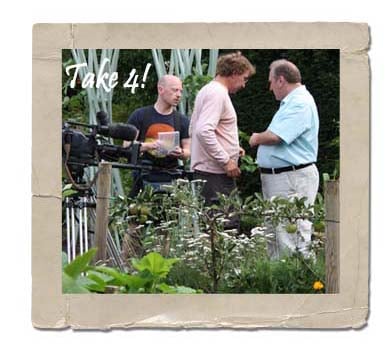 Lights, Camera – Action!
The peace and tranquillity of Stephanie's Kitchen Garden was shattered for two days recently as the stunning venue proved the perfect backdrop for a film shoot by Manchester-based Splash Broadcast.

But put away your popcorn for now as the garden won't be appearing on the big screen just yet, for the Splash Broadcast crew were commissioned to make a series of short video clips featuring 30 of our core mail order products – including fruit cages, raised beds, wormeries and fruit presses – and the vast majority were filmed in and around Stephanie's Kitchen Garden.

The specialist gardening film crew were led by Mark Hampshire, a former Good Morning TV cameraman who has seen service in some of the worlds most volatile and dangerous locations – including active war zones - and the results of their camera-work can be viewed online on both Splash Broadcast's Garden Channel and our very own Harrod Horticultural website on the individual product pages.

I was delighted with the way the shoot went and I'm certain the results will prove popular with our customers and gardeners alike. The video clips are simple but highly informative and as they last between one and two minutes, should be easy to follow - and I'm hoping they will provide our customers with extra information regarding our key products as well as clearly display just how easy many of these products are to assemble and use.

Mark and his team have also shot some short films of approximately ten further product ranges, such as the renowned Sneeboer tools, at some of the more prestigious public gardens in the country, including Tatton Park in Cheshire.

Saucy Tomatoes!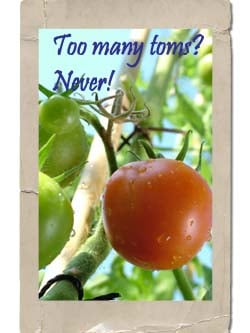 I'm quite sure I'm not the only gardener to enjoy a real glut of tomatoes at this time of year. A quick sortie round the garden reveals that an assortment of tomato plants housed in grow bags, greenhouse border soil, Earthboxes and raised beds are crying out to be harvested almost daily – and even though I've got a soft spot for these mainstays of the greenhouse and patio, there's no way I can – or want to, for that matter – munch my way through the lot.

That's why I've been taking a leaf out of the book belonging to kitchen gardeners from the past and finding other uses for the tomato mountain I've created. Back in the old days when the kitchen garden had to feed the big house and family throughout the year, the gardeners and kitchen would work closely to ensure not even a bean was wasted; and although I don't have an entire estate to keep happy, I'm keen to uphold the 'waste not want not' philosophy. I've had to improvise in a culinary sense so I'm busy making sauces from the excess tomatoes which I'm freezing and look forward to using in a couple of months time.

What varieties have I grown to create this non-stop tomato supply line? Well, the real hero this year has been Alicante which has really flourished in the rich greenhouse border, but Alexandros isn't far behind in terms of yield. There's no way I can do without my cherry tomatoes – which I tend to pick and eat as I'm walking past – and I'm a big Gardener's Delight fan. They've done really well in the Earthboxes I've planted up.

Squashed in the Larder!
It's not just tomatoes which are threatening to over-run the Kitchen Garden this summer. The assorted squash and courgette plants are doing their level best to escape from the bed in which they are planted – arguably a little too closely, and I'll learn to follow the recommended spacings next summer – and their vigorous nature extends to the quantity of fruit they produce. You could almost live off one of my courgette plants! I'm certain that the soaker hose I weaved in between the plants back at the start of the summer is heavily responsible for the bumper crop and I'll be carefully coiling it back up ready for use again next summer.

But it's the summer squashes which have really caught my eye this year. Old favourite Butternut Waltham is back for another term along with Scallop squash, a most attractive off-white 'pie crust' variety and my find of the year, the Acorn squash. Its dark green skin makes it quite difficult to find in our 'squash jungle' but the taste makes it well worth hunting for! I've made a few soups from them and the flesh is absolutely delicious when roasted. Storage? In a cool, dry, well ventilated location – my larder matches that exactly – I'd expect to keep a squash for as long as three months, so I'll still be enjoying a taste of summer at Christmas!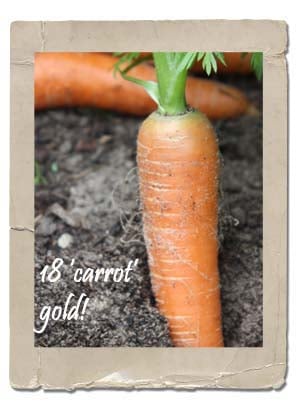 Carrots on the Pull!
Another major Kitchen Garden success story in '09 has been the carrots. Planted out in deep raised beds and with the existing soil mixed liberally with sand, these venerable root crops have headed to Australia in a real hurry. I've had good carrot crops in the past but this year has certainly been the best. You just can't overstate the importance of soil depth and structure when growing them and I'm glad we designed our raised beds up to three and four tiers in depth. Mixing in the sand has made the soil extremely light and my hard work in removing stones has helped avoid any of the peculiar shaped specimens which usually pop up from time to time.

But it's not just decent soil – and plenty of it – that leads to 18 carat carrots. The threat posed by carrot fly is almost ever-present but these destructive pests to have one chink in their armour; the egg-laying females can't fly much above ground level! That's where my deep beds come in handy yet again as the flies have to navigate around the bed, not over – leaving the carrots growing unaffected up top.

But don't despair if your low level carrots are within range of this flying foe; our Anti Carrot-Fly Screen is specially designed to make them deviate from their flight path. The fine mesh is too small for the females to wriggle through and with the screen standing 60cm in height, these low flyers just can't get the altitude they need to come in over the top - just make sure you earth up soil where the screen meets the soil and the carrot fly won't get in.

With such a heavy crop of the orange beauties this year, will I be dining on carrot soup for the foreseeable future? Well, at the moment I'm just pulling the carrots fresh when I need them but in a month or so I'll fill a box with damp sand – known as a 'clamp' - to store the lifted crop.


And you'll be able to find out more about that and discover how I intend to make the most of autumn through composting and leaf gathering activities in next month's review. But what of Dave, the careful curator of the formal gardens which surround Stephanie's Kitchen Garden? He's been busy battling with the aphids on his roses, furiously irrigating his water guzzling patio plants and has even managed to get a light cut on the lawn in the hope of stimulating some growth. "I've got a pair of secateurs in one hand and a bottle of organic spray in the other," he said, as he saddled up in preparation for another aphid shoot-out at the Rose Corral. "The spray keeps them at a manageable level and I'm always nipping off the dead heads with my Felcos to keep the bushes in bloom for as long as possible," he drawled.

It looks like Dave's in the unfortunate position of not having enough time to view the new video clips we've uploaded or even check our 'Ask the Expert' section of our site for advice on all sorts of garden gremlins and problems, but you should have enough time for a browse – I thoroughly recommend you do so!