STEPHANIE'S KITCHEN GARDEN UPDATE – DECEMBER 2009

It's easy to put the garden to the back of your mind during December; weigh up the fact that not much is growing (and if it is, it's very slow!), there's no watering or checking for pests and the weather is very cold against the time consuming preparations for Christmas and the endless wave of seasonal lunches and suppers, and it's not hard to take your eye off the gardening ball.
But the truth is there's actually plenty to do! I've enjoyed putting the Christmas shopping on hold for a few days and swapping my credit card for a pair of secateurs to tackle the inhabitants of the fruit cage; the leeks I worked hard to grow during the spring and summer are appearing in my soups and I've been busy gathering up leaves. If you'd like to know what else I've been up to in my Kitchen Garden – and escaped from the cauldron of pre-Christmas activity – read on...!
Berry Good Show!
I love my home-grown raspberries – I'm actually thinking of a summer breakfast of a handpicked bowlful with a dollop of organic yogurt on top right now – and it's thoughts like these that force me to pull on my hat, scarf and gloves, grab my secateurs and get pruning! My Kitchen Garden fruit cage is home to two types of raspberry; the traditional summer fruiting version and a few rows of varieties which fruit in the autumn – giving me breakfasts to remember for a good few months – and both have to be pruned very differently. The autumn berries are simple; get down on your hands and knees and cut off the canes at ground level, as these varieties fruit on wood produced earlier in the year. A bit more thought needs to go into the summer fruiting plants though, as it's second year canes which produce flowers and berries. I've carefully selected healthy canes matching this description and tied them into the support frames and given the shoots that fruited this year the chop, again at ground level.
Yes, it's cold; yes, it's windy and yes, the raspberry canes are rather prickly – but once I sit down next summer with my first bowl of the season, it'll all be worth it!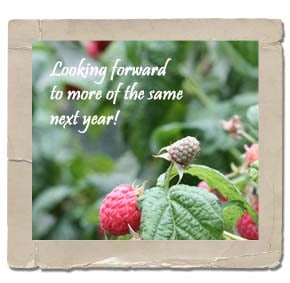 Currant Affairs!
Sharing the fruit cage with the raspberries are my four blackcurrant bushes and the masses of sharp, succulent currants they produce each year – they look like mini-grape vines! – soon find their way into my jams, pies, flans and tarts. As I'm rather partial to this A-list of desserts, I need to keep the bushes in full production so I've been carefully considering each bush – rather like an artist stepping out from behind the canvas – before making my pruning cuts. I'm aiming to thin out the centre of each bush to allow plenty of air and light penetration and keep a good mix of new shoots and older wood. As with any pruning operation, there's no place for weak, diseased or misplaced stems and I'm hoping my winter work will reap berry benefits come summer!


Welcome Leeks!
Most leaks aren't very welcome at all during the winter months, but exchange one vowel for another and the outlook is much more favourable! My carefully nurtured crop of leeks has been steadily growing throughout the summer under my watchful eye and although I've not had much to do with this wonderfully low-maintenance member of the allium family – save for some regular weeding and a good water in the hottest of hot spells - I'm certainly getting more hands-on now it's harvest time. In truth, there's no real 'harvest period' for leeks as you can leave them to stand for months as long as the bed isn't required, but the thought of leek and potato pie and warming winter soups is a good a reason as any to harvest them! Armed with my trusty Sneeboer Ladies Fork, I've been carefully levering the plants out of the soil and almost running down to the kitchen to prepare them. You really can't beat that fresh-picked taste!
Changing the Sheets!
Another reason for pulling up my leeks is to clear the bed so I can put on a cover which leaves even the heaviest duvet looking distinctly lightweight! Forget 13.5 tog ratings – my cover is the real deal and will hopefully protect the soil throughout the harshest of the winter months. I'm talking about a thick layer of compost, spread evenly over the surface of the soil and left for nature to take control. The frost will break up any lumps, earthworms will munch through any material and incorporate it into the soil naturally and I'll escape digging over the bed! Actually, that's not quite true; I'll still have some digging to do I'm afraid as it's too much to hope the material will be mixed into the soil by nature alone – but at least I can postpone it for a while. All I need is a wheelbarrow, a crisp, sunny winter's day, the contents of my compost tumbler and I'm off!

Leaf it Out!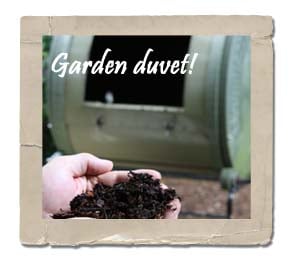 The time I save by not digging over my beds won't be frittered away – there's no chance of that with what seems like a forest-full of leaves to collect! One half of me says leave them to decay but the other less wasteful voice in my head keeps extolling the virtues of leaf mould, and it's very hard not to listen! Leaf mould is one of nature's freebies and is of great benefit to the garden in the following ways;
• Easy to make and use
• It's a great alternative to peat
• When used as a mulch it cuts down on watering and water loss
• Can be used on the lawn as a conditioner
• Suitable for adding to potting compost
• And it's free!
Making this valuable mould could not be easier! Just collect up the fallen leaves (all types are suitable), add to a appropriate container – the wire leaf composter was literally made for this purpose - and water if dry, then leave them for a year or two. There's no quick fix composting aids you can use to speed up the process as it's the action of fungi, as opposed to the composting mainstays of bacteria and micro-organisms, which break down the leaves to form mould. And the fungi like to take things slowly!
If I do miss any leaves though, it's not a cause for concern - they provide valuable hibernation sites and bedding for garden animals.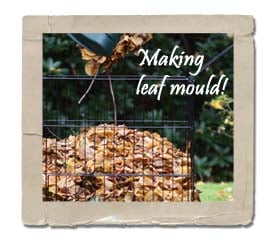 But it's not just the Kitchen Garden that's been a hive of pre-Christmas activity. That man for all seasons Dave, the tenacious tender of the formal gardens which surround my Kitchen Garden, has been busy with seasonal tasks such as chopping wood and raking up the leaves that I can't manage. I'm rather jealous of the all-in-one Rake and Scoop he uses for his leaf clearing operations as this igneous tool allows him to rake up and collect the piles of leaves in one swift movement. One bonus of his careful guarding of the Rake and Scoop is he's left the Heavy Duty Hands unattended – and these huge scoops make light work of the leaf piles I construct!
Dave's also been helping to mulch the asparagus crowns and remnants of the Jerusalem artichokes to keep out the winter chill, and these perennial vegetables should stay snug and warm under a thick layer of Strulch this winter.

Winter is the traditional time to plan for the following year in the garden, so break off from poring over your crop rotation to digest the new ranges we are carrying in our new, bumper 116-page 2010 catalogue and on this website – especially the seed potatoes and planters which I'll be growing this year, hopefully with the same success I enjoyed last time around! Try to find time to check our 'Ask the Expert' section of our site for advice on all sorts of garden problems – you might even find the answer to those pests, diseases and other obstacles put in your way during 2009!