KITCHEN GARDEN UPDATE OCTOBER 2007
Some things are destined not to go together. A bit like Romeo and Juliet, or perhaps oil and water. Fire and ice even. And to that list you can add gardening and a broken ankle!
Unfortunately, that's the fate that befell me some 5 weeks ago so you'll have to excuse the break (no pun intended!) between updates. I'm still not fit enough to get any hands-on (or foot-off) work done in the garden, but I've managed to wring the following information out of Sharon, who, left to hold the fort, has been stamping her mark on the Kitchen Garden.
And it certainly looks like the garden will be an oasis of green in the dull months of winter, with her frantic sowing of green manures, oriental salads, onion sets and garlic cloves.
The dark autumn evenings provide a great chance to top-up on gardening news and information via our weblog, packed full of views and comments from the horticultural world. But for now, here's what we've (well, Sharon actually!) been up to outside against a backdrop of the glorious burning colours of autumn; I give you October in the Kitchen Garden…
Autumn Bounty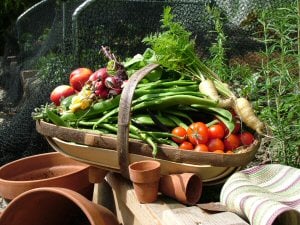 You can't help get that feeling that once the clocks go back, it's all downhill. Of course that's not true – the extra hour in bed sweetens the deal to start with – and in the Kitchen Garden the plants are enjoying a final flourish, urged on by the sunshine and mild temperatures of September and October. So what exactly is finding its way out of the garden and onto the table?
"I've been busy harvesting courgettes, leeks, purple sprouting broccoli, various beets, chard, carrots and spinach – and not forgetting the exotic salad leaves," gasped Sharon. "I've also put the greenhouse heating on a low setting and that's encouraged the tomatoes, aubergines and peppers to keep fruiting, as well as our climbing courgette. They look great displayed in a traditional wooden trug."
And with all-hallows eve on the horizon, we must mention pumpkins…
"We're in the same boat as much of the UK I'm afraid," Sharon reports, "with the awful summer leaving us with green or semi-ripe pumpkins. However, with temperatures set to rise and a spell of sunshine, we might have some orange pumpkins by the 31st!"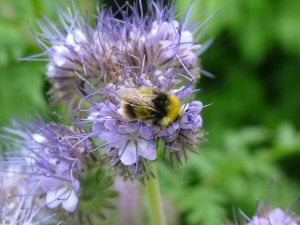 Green Party!

Remember how I told you we were going into green manuring in a big way this autumn and winter? I can excitedly report that the project is well underway with Captain Sharon carefully navigating the good ship green manure – and achieving results already! "All the green manures are growing well," confirmed Sharon, "in fact, I've already cut the buckwheat! The clover and phacelia are both growing well and the phacelia in particular will add some structure to the garden in winter," she enthused. "I'm planning to sow the last of the field beans any day now, and I'm delighted with the growth of the Miner's lettuce and landcress." Always keen to try out new recipes, Sharon has a tip for the kitchen. "Why not try land cress soup this winter," she says. "It's a great alternative to watercress and it'll help warm you up!" Having tasted the peppery landcress leaves, I can vouch for that…

Pest Watch

The popular BBC2 TV mini-series Autumn Watch returns to our screens on November 5th – but we've jumped in first with our own offering, Pest Watch! Gardeners tend to relax as the days get shorter and temperatures fall, but a conscientious approach to pest control at this time of year can play real dividends come spring. Slugs are still a pest – "they've munched my kale, cauliflowers and started on my winter greens," complained Sharon – but nematodes can be used right up until the soil temperature falls below 5 degrees C. Applying them now has many benefits;
• it reduces the slug population
• resulting in less egg laying slugs now
• and also in the spring when, hopefully, your pest control programme will hit the ground running!
Any slugs which the nematodes don't get are likely to hoovered up by greedy hedgehogs – and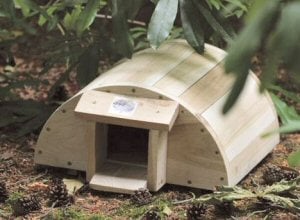 don't forget to provide them with a winter home - on the verge of hibernating and trying to fatten up. Incidentally, I've produced a very informative guide to biological pest control products which will be appearing in our all singing, all dancing 2008 Harrod Horticultural 112 page catalogue, due to hit the doormat in late December which will guide you through the pest/predator hornets nest! We're lucky enough not to suffer from codling moth in the Kitchen Garden, but you can still hit the codling moth larvae where it hurts by applying another nematode, steinernema carpocapse, to apple trees and the soil beneath. Other pests which are likely to become more high profile in the next few weeks are rabbits and birds – Sharon's got bundles of netting to keep off hungry pigeons and galvanised wire to fend off winter rabbit raids.
And last month…

You might remember from my last e-mail update that we were looking at another nematode-based activity – protecting the lawn from leatherjackets. These lawn-wrecking larvae of the daddy longlegs or cranefly are capable of ruining your lovely green lawn in no time as they greedily feed on the grass roots, causing brown patches of dead grass to develop. That particular activity went off without any problems, and am I the only one who thought the annual daddy longlegs invasion was a bit short of numbers this year?
Sharon's also been busy trimming up the box hedges and bushes which border the Kitchen Garden beds, and she's enjoyed what can be a slightly onerous task. Why? "It's the small hand shears I've been using – they are perfect for forming the neat box balls in between the hedging," she says.
Helpful Head Gardener Dave, curator of the formal gardens surrounding the Kitchen Garden, has been helping Sharon with composting and making up some leaf mould bins along with implementing his autumn lawn care programme. "I've been repairing any rough looking patches of grass," he reveals, "as any work I carry out now gives the seed or turf I put down time to establish before it gets too cold." Ever the professional, dedicated Dave has also treated the lawn to an energy boosting autumn feed. "A bit of TLC now, in the form of a high potash feed, will help the lawn come through the winter in great nick," he says lovingly.
If you've got a general interest in horticulture, then our extremely popular Harrod Horticultural weblog, accessible from the Garden Forum link on this page, is well worth a look. The variety of gardening news, information and opinion we've been posting is really hitting the mark and you have a place to put comments of your own, especially if you've got some good gardening tips or can relate to some of the articles already written. Dark autumn evenings were made for visiting the Garden Forum!
Martin