KITCHEN GARDEN UPDATE DECEMBER 2007
Hark back, if you will, to my last update from the Kitchen Garden when I was sidelined with my ankle injury (many thanks by the way for all your kind messages wishing me a quick recovery – both of them!).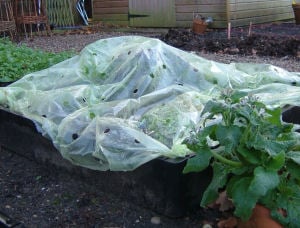 My digging duties have still not resumed so Sharon's been braving the cold days of winter alone, and she's trying to fend off the frost – both literally and metaphorically - with a combination of fleece, hardy plants and just a taste of the exotic.
She's also been lucky enough to get her hands on a few of the brand new products which have fought through our rigorous selection process (a bit like a horticultural X-Factor) to feature in the 2008 Harrod Horticultural catalogue – all 112 pages! You'll find a sneak preview on some of the chosen few below, and I'm hoping to bring you more comprehensive reports on our myriad of new products throughout next year – just contact me at martin@harrod.uk.com with the products you'd like featured!

And on the subject of cyber interaction, while away those long, dark winter evenings by browsing our very popular Garden Forum, where you'll discover a whole archive of gardening news, information and snippets.
But now it's time to sit back, take stock of your own gardening year and enjoy the last update of 2007; from Sharon and myself, have a very Merry Christmas and a Happy New Year!
Tradition? Bah, humbug!
December in the garden has always been a time when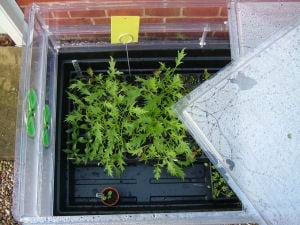 thoughts turn from growing and tending to fixing and mending – the plants are dormant, or need very little attention at best, and focus shifts to caring for garden hardware such as tools, fences and sheds.
But not in our Kitchen Garden, it would seem.
Sharon has reliably informed me that the traditional winter maintenance tasks have taken a back seat this year. "Even though the weather has turned very chilly, there is more than enough to do to keep me warm…such as planting up beds!" she says, without the merest hint of a shiver. "I have planted out Parsley (good old English Moss Curled and Italian flat), Pak Choi and Japanese Greens - all new varieties from our revamped 2008 seed selection – and I've been protecting the seedlings using fleece and the new Eco-Green Aerated Polythene."
Happy with the new seeds and plant protection material at your disposal, Sharon?
"It's a bit early to tell with the seeds, but the extra ventilation provided by the aerated polythene is allowing good air flow around the young plants," was the verdict.
Harvest Time!
As you'll find out, I'm not done with the 'breaking with tradition' theme just yet. Many gardeners take great pleasure from digging up/snapping off potatoes and sprouts respectively on Christmas morning (personally, I think it's a great excuse to get out of the house for a while!) and devouring them just a few hours later, but Sharon's got some alternatives lined up this year.
"We've got winter lettuces ready for cutting, which are snug under fleecy blankets. Here's a tip - use hoops under the fleece so it doesn't sag onto tender plants damaging them. Corn Salad, Miners Lettuce and young spinach will combine to make a healthy, tasty winter salad or two as well."
Sharon has also put one of those top-notch new products to good use already. "Mizuna and Rocket sown late are coming on a treat in the VitoPod, which lets enough light penetrate down to seedlings resulting in stronger, sturdier plants to be put out on the arrival of longer days," she reports.
So, with these leafy crops growing away happily, it seems like salad might be on the Christmas Day menu this year. Now were we discussing tradition…?
Berry Good News!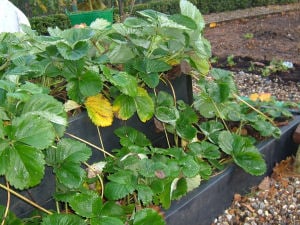 Way back in August, you might recollect our original Kitchen Garden strawberries made their final journey to the compost heap. Sharon subsequently erected and planted a fully loaded, triple-walled three tier Link-a-Bord construction with the replacement plants – "I've gone for the extra height as the tiers will allow for easy setting of runners," she said at the time – and now she's rightly pleased with the progress of the project.
"The tiered strawberry bed, which I constructed using the Link-a-Bord system is doing superbly with runners set all round. The insulation provided by using a double thickness of board will guarantee an early start for the strawberries," she says proudly.
I've got the cream in the fridge already…
Smart Idea!
We're always keen to learn about new innovations in the horticultural world at the Kitchen Garden – and if it involves foiling slugs, all the better! That's why we were only too happy to test out some Smart Slug Pots, specially designed to keep the marauding molluscs away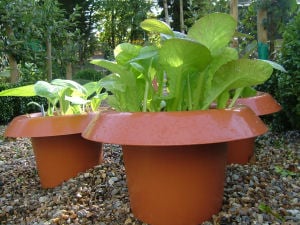 from tender plants. Sharon's introduced the pots to our young brassica plants and the two seem to be getting on famously.
"The cauliflowers are under attack!" she proclaims. "With our woodland setting, we also suffer from not just mice, slugs and snails, but also wood pigeons a plenty and very clever squirrels with a taste for greens."
As you can see, we're up against it. But how are the Smart Slug Pots playing their part Sharon? "The plastic walls protect from critters and copper deters the slugs," she says. "I've also added a net and tea feed to fortify and short of armour-plating, I've done all I can."
And with an endorsement by the National Collection of Pot Grown Hostas no less (long considered the slug's first choice off the menu), these pots certainly seem up to the task.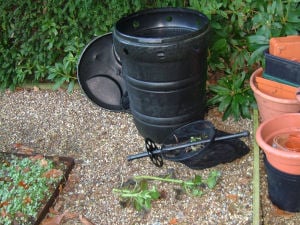 Time for a Cuppa!
Not for the gardener – for the garden! Another one of the products deemed of high enough quality to grace the pages of the 2008 catalogue is the Compost Tea Maker. Probably the best way to describe this giant horticultural teapot is to compare it to just that; for teabag read a biodegradable sack of mature compost and for teapot read 100 litre water barrel. Suspend the bag of compost in the water barrel overnight and you've got a brew ready by morning!

Sharon's decided to experiment slightly, and in a throw-back to medieval times, she's distilling borage tea. Apparently, monks used to add the plant to their tea for a 'kick' and jousters, prior to being knocked off a galloping horse by a solid lance, would infuse the plant with brandy for extra courage! Even Charles Dickens knocked up his own potent concoction of borage punch!
But back to Sharon's own label. "I am having a go at creating a Borage Compost Herbal tea for our plants," she says excitedly. "I'm using the late sown 'gone over' plants of Borage which, having improved the soil, attracted the bees and guarded against mildew are now being put to good use by infusing a tea in the Compost Tea Maker!" Keep it here for updates!
And last month…
You might remember from my last e-mail update (subscribe here if you didn't receive a copy) that we were preparing for the annual leaf clear up. I've wheeled in an electric shredder to help prepare the fallen leaves for composting, and I've found the perfect vessel in which to let them slowly break down – biodegradable leaf sacks. We've been shredding and stuffing and hopefully all our hard work will be rewarded next year with some beautifully textured leaf mould.
Meanwhile, Head Gardener Dave, the contentious custodian of the formal gardens surrounding the Kitchen Garden, has been tidying up his tools for the winter recess. Dave's a lucky boy, as he reveals; "I've had a sample of the new Blade-Tech Sharpener and I've been outing it through its paces. I'm already looking forward to using my shears and secateurs next year when they'll be as sharp as they've ever been," he says. Dave's also been scribbling out his Christmas letter to Santa, armed with the 2008 Harrod Horticultural catalogue, and can't wait till December 25th!
If you've got any interest in horticulture, then our extremely popular Harrod Horticultural weblog, accessible from the Garden Forum link on this page, is well worth a look. The variety of gardening news, information and opinion we've been posting is really hitting the mark and you can even place comments of your own, especially if you've got some good gardening tips or can relate to some of the articles we've written. Winter evenings were made for visiting the Garden Forum!
Martin