KITCHEN GARDEN UPDATE NOVEMBER 2006
Although October and November are months where the garden traditionally winds down and prepares for winter, the last few weeks have seen frenzied activity in the Kitchen Garden. I've been building raised beds, testing potential new products and photographing the successful candidates ready for inclusion in the 2007 Harrod Horticultural catalogue – and I've even welcomed a new team member! Amongst all the furore however, some horticultural jobs were completed, which I also tell you about below…
Welcome Kate!
With even more products appearing in the burgeoning horticultural marketplace, it's been decided to boost the staff numbers in the Kitchen Garden so we can continue to bring you cutting edge products and information – so enter Kate!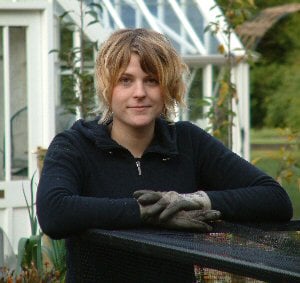 A student at Easton College in Norfolk, Kate started working at the garden during October and brings the latest in horticultural knowledge and techniques to the table. "I am very excited to be the newest member of the
team at the Kitchen Garden" she said, "and being passionate about everything organic, I am thrilled the team feel the same way I do." Kate added; "This work compliments the National Certificate in Horticulture course which I am currently studying".
To Dig, Or Not To Dig?
There's been some debate in the garden monthlies recently regarding how best to prepare beds. One point of view advocates the digging in of organic matter or compost, whilst another supports laying it on top and letting the worms do the work. These philosophies then extend to pre-planting preparation; I know it's normal practice not to cultivate or disturb the soil prior to planting out brassicas, and that carrots for example like a well dug site, but is one method more successful than the other? That's what we're – hopefully – about to find out, as one of Kate's first tasks was to set up a trial in the link-a-bord raised beds.
She's planted out garlic cloves (var. Thermidrome) in 4 beds; two of them she dug over well to create a fine tilth, and the other two she simply planted up with cloves; now all we can do is await the results – and you'll hear about them here first!

Meally Bad News for Cabbages!
Kate and I recently tidied up the brassica bed, protected by one of the Freestanding Heavy Duty Steel Vegetable Cages which in turn is covered with butterfly netting. This combination has certainly kept the cabbage white butterfly – and it's extremely destructive caterpillars – off the brassicas and I'm hoping that we might have some brussel sprouts to accompany Christmas dinner.
One pest that didn't have any problems creeping through the netting was the Cabbage Mealy Aphid, a grey-green specimen which covers itself with a powdering of white mealy wax. Some colonies can become quite dense but damage is restricted to yellowing of leaves on established plants; on young seedlings and transplants however, this pest can certainly check growth, weaken plants or even cause…death. As with most aphids, the cabbage variety carry viruses – cauliflower and turnip mosaic, so they are n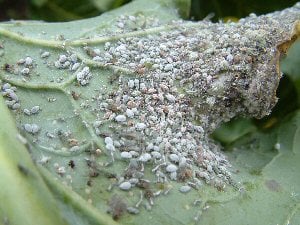 ot really a welcome addition to the brassica bed. How have I got rid of them? Some have gone to Easton College with Kate in a plastic bag to form part of her Pest and Disease and project, others have been sprayed with the organic pest control liquid and the rest, complete with the yellow foliage, have been destroyed.
I've also made a note to remove all old brassica plants as soon as they've finished cropping to greatly reduce the number of overwintering eggs.



And last month…
You may recall from the October e-mail update (and if you didn't receive a mailing, why not?! You can subscribe through this website) that my list of tasks included cleaning the greenhouse from top to bottom with armillatox to remove algae from the glass (got to make the most of the weak winter sun) and pests, such as greenhouse red spider mite, from the framework. I'm glad to say I've done this, and installed the heater and heated jumbo propagator as well – I also managed to treat any pots and containers with Nemasys Hto knock out the larvae of the vine weevil and spread some Strulch over the dormant beds.
And I have decided to bring you some news from Head Gardener Dave, who looks after the formal gardens surrounding the Kitchen Garden. He's told me that in the past month he's been replacing areas of turf that have been a popular digging location for rabbits, and he's also renewing some of the guttering and will be installing water butts and rain traps at the same time.
"All the fallen leaves I've collected – and there's been quite a few – have all gone into our compost bin to make a nutrient rich mulch for next year" said Dave, "and once I've laid the turf, I'll be using the Everedge lawn edging to give the area a neat finish".
With the winter evenings pulling in quickly, there's no better time to visit the Harrod Horticultural weblog, accessible from the Garden Forum link on this page, and enjoy reading the articles we've posted and the many comments they've attracted – maybe even post a comment of your own, especially if you've got some good gardening tips or can relate to some of the problems or questions raised. We've got recipes, pest control information and lots more – the Garden Forum is certainly the place to visit!