KITCHEN GARDEN UPDATE JANUARY 2007
The deep mid-winter. This must be the worst time of year, with slate grey skies day after day and the garden practically devoid of colour.

It really seems like nature has packed up and gone away for a couple of weeks just after Christmas! The Kitchen Garden has risen above this January lethargy however, as we've got tomatoes growing in the greenhouse and broad beans flourishing in the beds. I've got to admit, I did spend some time indoors, scanning catalogues, planning the garden layout and ordering sets and tubers, but the unseasonably mild weather has allowed Kate and I to get outside and do some work. Here's what we've been up to...
Bean Busy?!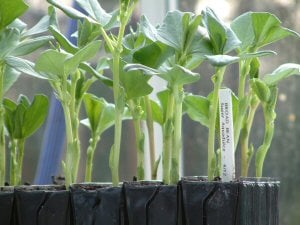 Looking back at January last year, the Kitchen Garden wall planner tells me that the broad beans were planted out on January 11th. I'm earlier this year, as the first 32 plants hit the soil on the 8th, with a second wave (another 32 plants) planted out on the 22nd. I seem to remember a glut of beans last year, so the two week interim period might stagger the harvest. We've gone for Super Aquadulce again as these are generally regarded as the early broad bean seeds, and they were sown into the deep cells of a rootrainer on December 4th. After a couple of weeks in the greenhouse (heater set on frostwatch only), they were hardened off and now seem in the best of health in the beds. It really raises the spirits at this otherwise dismal time of year to see new green growth in the garden, and I'm already looking forward to harvest time in April and May.
Green Garden
On the subject of garden greenery, I've decided to follow the green manure path this winter. I've read plenty about the benefits of growing crops like comfrey, rye grass, peas and beans, lupins, rape etc over the winter before digging in and incorporating the green growth before maturity. I've also had Kate bending my ear after a day at college about how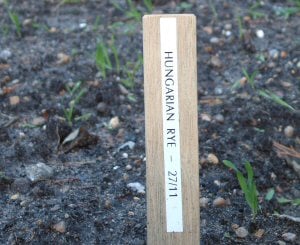 many nutrients can be added to the soil by this practice, so I've sown Hugarian Grazing Rye and Field Beans to see exactly what happens. The grazing rye's been great – I simply broadcast the seeds over the soil and they germinated – and now the soil's covered with 5cm high green shoots. Kate's heard a rumour that a break is required before planting the main crop after turning in this form of green manure, so I've sent her away to investigate further.
The field beans have proved popular with the local population of hoodlums – mice – who have shown a distinct liking for the seeds. They must find it amusing to cleanly sever the young shoots before making off with the seed, but they'll soon be laughing on the other side of their whiskers as I've got plans for them…Back to the field beans – legumous, so a great source of nitrogen – which are growing well, and can only benefit the soil.
As this is a new project, we'd be glad to hear of any other green manures we should try, or equally avoid – e-mail us any personal recommendations or post your comments on the Garden Forum weblog.
Dig/No Dig – The Latest
Seems like our piece on the merits of digging – or not digging – the soil in vegetable beds in the last update has caused some debate. You might remember that Kate and I have set up a trial to see if our garlic grows better in cultivated or uncultivated soil, and we've already received numerous e-mails with different opinions. One of the most interesting was from Mr Charles Dowding, who has practised the no-dig technique it for 25 years on commercial organic vegetables and on three different soil types. Mr Dowding said; "I enjoy reading your diaries and noticed you double-dig, apart from the no-dig trial. I can assure you that no-dig works brilliantly, and interestingly, some of my best crops on heavy soil here (Fullers Earth, clay over limestone) are carrots and parsnips which seem to really appreciate undisturbed soil - I rarely have forked roots and they grow plenty long enough. Ironically I have to loosen soil vigorously to persuade parsnips out".
Mr Dowding also raised the often overlooked role of mycorrhizal fungi in vegetable growing. "Another aspect of no-dig gardening is the potential for increased mineral content of crops, partly due to leaving mycorrhizae undisturbed and they are one of the main facilitators of nutrient passage out of soils into plants, part of the reason for success with well-made compost," he said. "Mycorrhizae have a big future, I hope to be trialling a few this year."
Mr Dowding has of course given a big thumbs up to doing away with digging, and I suspect Kate is on the same side as she's informed me of the following benefits;
• No more labour intensive digging
• Moisture and organic matter are both retained
• The structure of the soil is retained and eventually improved
• Undisturbed soil allows beneficial organisms to flourish
• Fewer weed seeds are exposed and can germinate
It would be great to hear from anyone who wants to stick up for the traditional method of digging over the soil – just e-mail or post on the Garden Forum weblog, and we'll contact you for permission to use your comments in further updates. This one will run and run!

And last month…
You might remember from my last e-mail update (subscribe here if you didn't receive a copy) that I had big plans to clean and service – if it's possible to service a fork - all the tools and keep the plants destined for the Harrod Horticultural stand at the Chelsea Flower Show in fine fettle. I've almost completed the former and the Chelsea plants are coming along well, if rather slowly – I'm sure a recent power cut, which affected the heater and propagator, didn't really help however!
Meanwhile, Head Gardener Dave, who tends the formal gardens surrounding the Kitchen Garden, has been wandering round with a bemused look on his face recently. He's been plagued by strange mounds of spoil which appear overnight on the lawn and have at their centre a perfectly round hole or burrow, about 1-2cm across. Says Dave;"I can clear up an area of the lawn and then hours later, the mounds a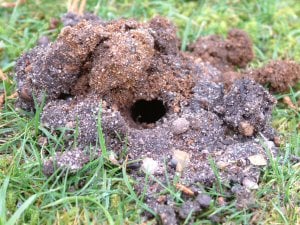 ppear. The creature making the hole certainly works hard as there's a nice little spoil mound alongside, and I think the rabbits must be interested too – there's sometimes a little pile of droppings next to the spoil."
If you can shed any light as to what creature is making these holes, please contact me and help remove the puzzled frown from Dave's brow!
Apart from scratching his head, Dave's also been burning off any weed or moss growth from the extensive network of shingle paths with the Flame Gun. "Heavy duty doesn't do it justice," he enthuses. "This really is the most potent burner I've ever used, and it's particularly pleasant on a cold winter's day."
That's all the Kitchen Garden news for now but don't forget to visit the our Harrod Horticultural weblog, accessible from the Garden Forum link on this page, and enjoy reading the articles we've posted and the many comments they've attracted – maybe even post a comment of your own, especially if you've got some good gardening tips or can relate to some of the problems or questions raised. We've got recipes, pest control information and lots more – the Garden Forum is certainly the place to visit!
Martin