KITCHEN GARDEN UPDATE MAY 2007
I normally start with a quick review of the weather – after all, it's the most defining factor of the gardening month – and May certainly deserves a name check. The cloudless blue skies of April made way for a record-breaking (high rainfall and low temperature unfortunately) 4 week period which culminated in that unforgettable Bank Holiday! The upshot is that water butts are full, plants are flourishing and although the gardeners are a bit soggy, everything's looking lush and green!
And, as usual, May has been a very busy time in the garden. I've been at the RHS Chelsea Flower Show, we've got new raised beds to build, Kate's got hedges to trim and there's the usual raft of sowing, transplanting and weeding to continue with.
That's why there's a new Kitchen Garden arrival for you to meet – you can read more about her below, along with what else we've been up to this month…

Meet Sharon!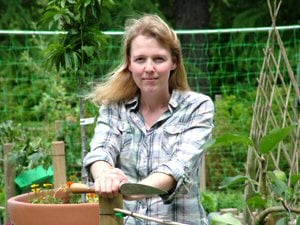 As I've mentioned above, the Kitchen Garden project is really taking off and if we're to continue to bring you new ideas, new products and real hands-on growing expertise and tips, we're going to need an extra pair of hands. And that's where Sharon comes in! She's had a keen interest in organic gardening for a number of years and is looking forward to stamping her mark on the Kitchen Garden. "I've gained much experience from turning my back yard from a pile of builder's waste into a family veg plot," said Sharon, "using only organic methods, minimal resources and lots of hard work."
Composting is her real forte, intrinsically linked with the production of fruit and vegetables which have that unique, home-grown taste. "My belief is top quality, flavoursome vegetables need high quality soil and so the development of a rich and extra fertile growing medium is my highest priority in the garden", Sharon enthused, "hence my love of composting, green manuring and mulching."
Sharon, whose vegetable plot at home helps to feed her partner and 4 hungry kids, is also looking forward to trying out unusual and forgotten varieties of vegetables. "I'm hoping to extend my knowledge of companion planting and can't wait to start utilising Harrod Horticultural's wealth of products and resources," she added.
Bean and (Going) Gone!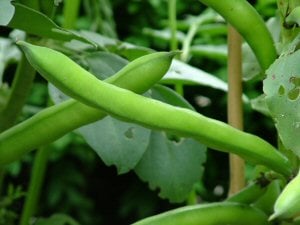 Broad beans have been a real stalwart of the Kitchen Garden since its inception, and the last few weeks have seen harvesting commence. We've sown Super Aquadulce (ideal for autumn sowing) and I must confess that this crop is on my long list of favourites – not to eat, but to grow – as the young plants give the garden some colour over winter, can withstand most of what December, January and February can throw at them and really put on a growth spurt come March. The flowers attract bees to the garden early in the season and there's not too much – in my experience, touch wood – that can seriously go wrong with them. Yes, you might need to pinch out the tops if the black bean aphids drop in for a sap-sucking session, and you'll no doubt find that the pea and bean weevil cuts attractive notches in the leaf edges, but in general – in our garden at least – we've had no real problems. In fact, I'd recommend them as an ideal 'training' crop for the novice gardener!
We're harvesting our crop now, picking from the bottom of the plant upwards and remembering to water the soil regularly to increase the yield, a task we've been carrying out since the flowers first appeared. Broadly speaking, it looks like it's 'bean' another good year!
Good Company!

One aspect of the Kitchen Garden that's really developed this year is the idea of companion planting. Kate's very keen on providing companion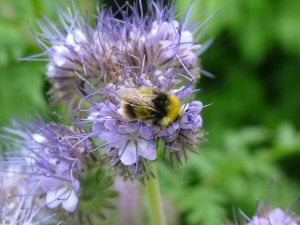 plants and floral deterrents to help keep pests off our precious crops, and she recommended we plant some phacelia this year. I delved into one of my back issues of The Organic Way Magazine (Autumn 2006) which carried the results of an experiment into beneficial planting – and phacelia came out on top! It's certainly a popular plant with bees, having just burst into flower in late May, and can also be used as a green manure – and apparently the flowering time can stretch to November! Kate's also planted out some tagetes and nasturtiums to attract both beneficial insects and entice aphids away from crops, and we've followed Monty Don's BBC Gardener's World advice; by planting nasturtiums in the poorest soil we could find (Head Gardener Dave's recent delivery of 'topsoil' fitted the bill nicely), flowering is encouraged at the expense of the usual rampant growth.
And do you know what? The garden is teeming with insects, all keen to visit the flowering plants, and it looks much more colourful to boot!
Destination Chelsea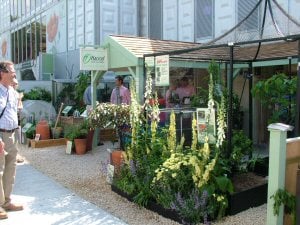 It's an understatement to call it a flower show now, as the beast that is the RHS Chelsea show has grown into huge countrywide – if not global – event. There's live coverage as well as a daily update on BBC TV, the designers of the show gardens are mostly household names and the organisation and work involved to exhibit at the show, let alone create a garden, is immense. 2007 was the sixth year that Harrod Horticultural has constructed a stand to display our products, and the second time I've grown some plants to demonstrate our goods. It's a time consuming and very delicate process but last month it all came to fruition; of the plants I produced the tumbler tomatoes were turning red, courgettes were in flower and the willow obelisk (much admired by Head Gardener Dave), festooned with French climbing and runner beans, took pride of place in one of our superior timber raised beds. I'd like to think that the plants went a little way to earning the Harrod stand a Certificate of Commendation, and there's more info on our Chelsea on the very popular and informative weblog.
And last month…

You might remember from my last e-mail update that our jobs list for May also included setting up the Runner Bean Support Frame (and planting out the beans themselves), sowing and growing on our cucurbits and giving the greenhouse a (late) spring clean up.
Kate's been busy planting up the link-a-bord beds with a combination of herbs and salad crops - putting her creative talents and Art Degree to good use. As you know, I've been down to the RHS Chelsea Show twice along with keeping my eye on the horticultural ball and regularly publishing articles on the weblog - so it's been a typical Kitchen Garden month!
Also keeping busy is Head Gardener Dave, who tends the formal gardens surrounding the Kitchen Garden. Much to my dismay, his problem with bitter cress has subsided as the flowering plants in his beds and borders have relished the wet weather and surged upwards and outwards, stifling the smaller weeds. However, just as he put away his humane rabbit traps, the small population of rabbits has undergone something of a boom and they're back at no. 1 on his list of Garden Enemies. Not far behind are millions of aphids which have invaded his roses but derris has come to his rescue. Says Dave on the matter; "I've found that because a large amount of derris can be mixed in a sprayer it's much easier to use when you've got lots of plants to spray, and it's really giving good results."
Dave's spent a lot of time with his roses – as well as spraying, he regularly dead heads the spent blooms - but it's certainly paying off as the display is fantastic and the aroma spellbinding; unless of course he's taken to wearing perfume again!
Your next port of call should be the completely revamped Harrod Horticultural weblog, accessible from the Garden Forum link on this page, where you can enjoy reading the articles we've published. We're finding the variety of gardening news, information and opinion we've been posting is going down really well and you can even place comments of your own, especially if you've got some good gardening tips or can relate to some of the articles we've written. We've got news, information and lots more – the Garden Forum is certainly the place to visit!
Martin