KITCHEN GARDEN UPDATE JUNE 2007
The Harrod Horticultural Kitchen Garden is usually a hectic place to be, but this last month has really taken the frantic biscuit! We've been building – and planting up – new raised beds; the slugs and snails have enjoyed a population boom; Kate's headed off to pastures new; I've successfully completed the Master Composter course – and then, of course, there's the weather…
The wettest June for 93 years – read more about the damp conditions on our weblog – has played havoc with our crops, and we've details of the pests and diseases which thrive in the wet, humid conditions we've been experiencing. You'll also find out more about how the greenhouse crops are faring, the latest news from Sharon and just what Head Gardener Dave, curator of the formal gardens surrounding the Kitchen Garden, has been up to.
High Rise!

Raised bed gardening has been enjoying a real resurgence over the last couple of years, and ever since we developed a new range of timber raised beds over the winter, I've been champing at the bit to get building. Well, that longed for moment finally arrived last month as I got the go-ahead to get cracking on a Superior Raised Bed complex!
Whilst Sharon was carefully preparing a top-notch planting plan, I got to work constructing a multi-level system of beds, all of which were linked together. The accompanying image shows off the structure very well, with the three single tier beds at the front and the two-tier versions to the back all individually measuring 1.2m x 1.2m square.
I dodged the rain showers (some of which seemed to last for days) and, armed with my electric drill, easily screwed and bolted the beds together, before filling them with a mixture of topsoil and peat free compost.
Keen to commence her seed sowing, Sharon was practically elbowing me and my wheelbarrow out of the way as I finished adding the soil! She's since sown basil (various varieties), rhubarb chard, kohl rabi, carrots, lettuce and mizuna and added some slug and snail copper tape to the edge to prevent any unwanted mollusc visitors.
As the seedlings of the above plants emerge, the beds are looking great and Sharon will shortly be looking at growing a green manure over winter or adding some of our Kitchen Garden compost to the soil - which leads me nicely on to the art of compost making…
Old Master!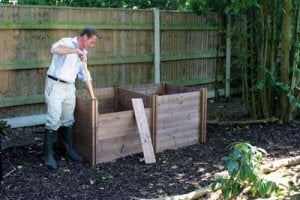 Last month I took part in the latest Norfolk County Council-led Master Composter training scheme, aimed at promoting home composting across the county. You can read all about the course, my experiences and what I'm doing to complete the 30 hours of volunteer work included as part of the course in detail on the weblog – and there's quite a lot of good stuff involved – but in the meantime, talk in the Kitchen Garden has been, almost exclusively, of compost!
You may recall from last month's update that Sharon has a particular interest in composting, and she's been busily updating me with the changes she's made to the Kitchen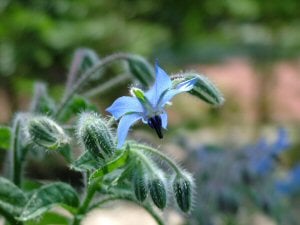 Garden composting area.
"I've added two more compost bin modules so now we've got four," she said, "one for material which requires shedding, another for brown, one for greens and the fourth for household waste which we can't shred." Sharon continued; "the new shredder has been really useful and I've just used the latest compost tumbler produced batch of material to dig in around the squash and pumpkins."
Any other compost-related tips, Sharon? "It's the best time to collect nettles for making a liquid feed right now, as they are flowering. Don't ask me why they make a better feed at this stage – they just do!" she added.
Good Companions!

You might recall from last month's update that Kate had been busy with our Kitchen Garden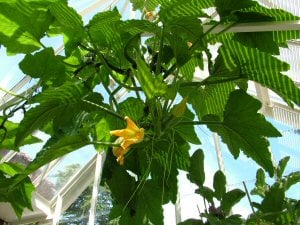 companion planting initiative. Following on from her success, Sharon has been singing the praises of some other flowering friends, such as borage, but has some stern words for the BBC Gardener's World main man, Monty Don.
"For a really good companion for strawberries and squash, look no further than borage," she enthused. "Monks used to grow this plant and added it to beer they were brewing to give it a bit of a lift – it was called the happy herb! These days, it's used to prevent mildew in strawberries and I use the young leaves and flowers at home to make borage tea," she said.
Sharon also added that borage flowers could be used in salads, along with the flowers from nasturtiums, but was not completely sold on Monty Don's tip for producing flowering nasturtiums at the expense of growth. "I've tried growing nasturtiums in poor soil as Monty recommended, but in my opinion the plants just don't get big enough to produce suitable flowers. I can see where he's coming from but I just don't think it works," she complained!
Another aspect of companion planting that Sharon says does work is the 'Three Sisters' method. "Basically, you plant squash, sweetcorn and a legume together," she explained. "The legume – let's say it's a bean – uses the sweetcorn for support, whilst the squash trails along the ground and uses the nitrogen fixed by the bean to help it grow." Sharon's testing out her confidence in this method in the Kitchen Garden, and we'll let you know how successful it is later this year!
And last month…

You might remember from my last e-mail update that we were planning to thin out the fruitlets on the apple trees, install irrigation systems to combat the hot, dry conditions (I'm sure I'm not the only one who got that wrong!) and trim up the yew and box hedges in and around the Kitchen Garden. They've all been ticked off, along with attempting to keep slugs and snails off the runner beans as they grow (Advanced Slug Pellets – organic, of course – did the trick), training our ring-pot culture grown climbing courgette into the uppermost reaches of the greenhouse and cutting down the blight-infested haulms of the potatoes. Sadly, we've also said goodbye to Kate, who, with her three jobs and college studies, has found the Kitchen Garden a project too far. She's certainly helped to improve the garden in her time with us and we'll definitely miss her; hopefully, we haven't seen the last of her…
And what of Head Gardener Dave, who tends the formal gardens surrounding the Kitchen Garden? Well, he's been busily bailing out the fountain on an almost daily basis, and has spent some time with his head in his hands, despairing at the rate his roses, lilies and peonies have been shot at by the bullet-like hailstones and raindrops. It's not all doom and gloom however; he's been happily putting the Mantis tiller with its lawn attachments – aerator and de-thatcher – through it's paces on his lovely green sward, and has used the hedge trimming accessory to good effect on some of the yew hedges too. He's even had to stake the odd lily that has escaped the worst of the weather with some loop stakes and rings.
Your next port of call should be the completely revamped Harrod Horticultural Garden Forum, where you can enjoy reading the articles we've published. We're finding the variety of gardening news, information and opinion we've been posting is going down really well and you can even place comments of your own, especially if you've got some good gardening tips or can relate to some of the articles we've written. We've got news, information and lots more ...
Martin