KITCHEN GARDEN UPDATE MARCH 2008
'Four Seasons in One Day' sang 80's Australian pop group Crowded House, and that Antipodean song title could well be used to describe March in the Kitchen Garden!
Sharon's gone through her annual gardening attire in just four weeks as she's struggled to match her clothing to the conditions; she's had to contend with wind (the weather type), a Christmas Card fall of snow, cut-glass sunny days and hard night time frosts. And it's not just Sharon who's had to decide if she needs her coat each morning – she's spent March wildly flinging fleece and aerated polythene around in an attempt to keep the seedlings and young plants happy!
Being the trooper she is, Sharon's not let the unpredictable weather interrupt her busy March schedule in the garden; in this update I'll cover her potato planting programme; we'll find out how her early crop of carrots is progressing; there's news on the broad beans and lots of other snippets from around the garden in general.
It's highly likely that you've spent most of the month in the garden too, so take a few minutes out to compare what we've been up to – and please let us know of any early season grand successes, spectacular failures or frustrating problems you've experienced horticulturally. And whilst you're enjoying a few well earned minutes of 'me' time, check out our very popular Garden Forum, where you'll discover a whole archive of gardening news, information and snippets. Also, don't forget to visit our Ask the Expert feature as there might be an answer to that gardening problem that's been furrowing your brow for a while now!
But back to March and, in the words of Crowded House once again, let's hope the remainder of this month leaves some good 'Weather With You'…!
Spud u Like?!

It's at this time of the year that the great British gardening population get around to planting that mainstay of the Kitchen Garden – potatoes. After a month or so of urging the tubers to produce and grow chits, the time has finally come to start planting, and our venue is no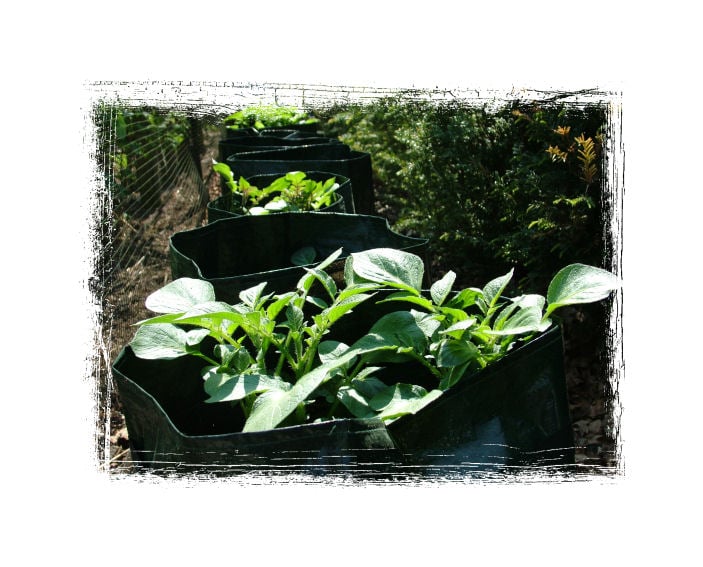 exception.
Potatoes of various varieties have requisitioned the potting shed recently but in a recent break in the weather, Sharon has burst into planting action and spud numbers are dwindling. "I've been filling up my Potato Planters with home-made compost ready for the early varieties," she says. "I'm also trialling the potato fertiliser and the new Medwyn Williams recommended grow bags, which I'll be planting up with early varieties – including Charlotte, Orla, Witchill, Amorosa, Red Duke of York and Belle de Fontenay." With such an extensive line up, surely Sharon will need a cavalcade of planters to accommodate them? "I certainly have!" she laughs, as you can see from the image!
And what about all those potting shed squatters, chitting away? "I must confess they did start off slowly as the shed was a bit chilly, but the introduction of the trusty Tropic Electric Fan Heater mid-March soon solved that problem, and lots of perky shoots have emerged.
With such an intensive planting programme, we're almost guaranteed to experience the successes and failures I mentioned in the intro; and you'll be able to read all about them here!
Happy Carrots!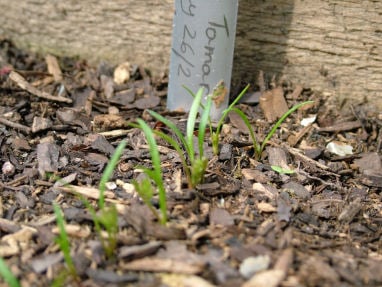 Raised bed gardening is big business these days – you might have seen our Harrod Horticultural e-mail newsletter - penned by BBC Gardener's World star Matthew Wilson no less – on the subject recently, and Sharon's been making sure our Kitchen Garden raised beds are used to their full potential too. She's prepared one of the Superior Raised Beds with a very sandy soil mix, especially for the carrots – and has been conscientiously covering and uncovering the tender seedlings with fleece and cloches during the recent cold snap.She's planted out several different varieties and hopefully we'll be grating, chopping and dicing them in a couple of months' time!
Perfect Peas!
Another early crop Sharon has steered through the choppy waters found in the Straits of March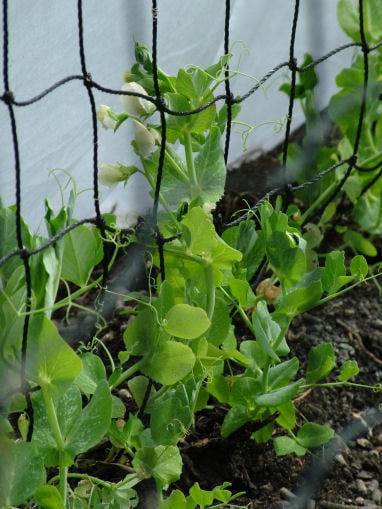 are the peas. Traditionally, these tasty legumes have hit the soil in late April or early May - when the threat of frost has all but receded – and have flourished through the warm summer months. However, as Sharon seems to have most of the world's fleece stored up in the garden (and why not – you can never have enough fleece!) she's planted out early and protected the young plants admirably. "I've used the very versatile Pea and Bean Hoops for support first and foremost," Sharon reports, "but it's also very adept at supporting a layer of fleece too.
The Douce Provence plants have flourished under the extra protection and all I need to do now is to keep them safe from the biggest pea pest in the garden – Dave the gardener!" she laughed.
Leaning Beans! On the flip side, in rather later than usual but giving their usual splash of spring colour to the garden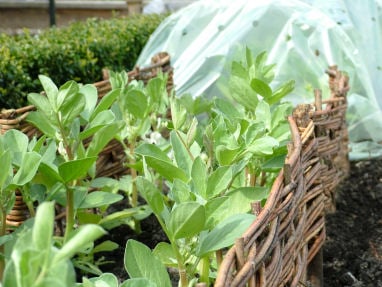 at present, are the broad beans. The Kitchen Garden history books will show that we've planted the variety Super Aquadulce in January, or even late December, but Sharon's gone for a slightly later planting of Bunyards' Exhibition this year. Supporting these early season legumes has always been a task, and I've gone for the close planting option in the past, which relies upon the plants supporting each other. This has met with limited success – and harvesting has proved difficult too – so this year, Sharon's enlisted some of the attractive willow hurdles to help. "Not only are the beans standing upright and well supported, but the hurdles look great as well," she says.
Asparagus Update!
One of the original Kitchen Garden crops, the asparagus crowns in our perennial bed have been there right from the beginning. The spears have proved very popular with our culinary expert – one Stephanie Harrod, no less – and as a result, it's been decided to increase the asparagus 'acreage' with immediate effect. Sharon takes up the story; "I'm in the process of extending the existing asparagus patch with some Connovers Collosal crowns, and I checked with the RHS for planting advice before I started. I'm using the compost made in our own composting area to line the planting trenches I've dug, and hopefully the spidery roots will appreciate it! All these frosty days are playing havoc with the existing asparagus, and we may have to wait a while for green shoots this year."
And last month… You might remember from my last e-mail update that Sharon was dee-jaying at the greenhouse party! Well, she's extended the 'dance floor' by replenishing the greenhouse border with a mix of leaf mould, very well rotted organic chicken manure and compost. "A sprinkling of tomato and cucumber fertiliser tops it off," she says, and after three years of heavy tomato and cucumber growing, it's long overdue.
And after the visit from top tree fruit pruning guru Graham Proctor of Crown Nurseries, Sharon's produced her own guide to winter pruning which you can read on the extremely popular Harrod Horticultural weblog - accessible from the Garden Forum link on this page.
Ever popular is Dave, Head Gardener of the formal gardens surrounding the Kitchen Garden. He's started mowing his lawn again but is still plagued by rabbits – he's been spending many hours this past month creeping around with his beloved pink tub trug, filled with a mix of wormcast, sieved compost and grass seed, sprinkling this concoction onto the bare patches of lawn the rabbits are responsible for. Normally Dave will give us a quote, but as you may be reading this before 9am, we'll refrain from repeating his words on this occasion!
Martin