KITCHEN GARDEN UPDATE APRIL 2008
Another gardening month has passed into the annals of history at a bewildering pace; and once again, Mother Nature has thrown the contents of her weather locker at the Kitchen Garden!
We've progressed from snow at the start of the month to some splendid – and very welcome – warm spring sunshine at the end of April, and the net result is a garden which finally looks vibrant and alive.
Sharon's tentatively hung up the winter woollies and has been showing off her sunhat recently, but of course, this is a very nervous time for gardeners. Sparkling clear sunny spring days are all very well, but temperatures plummet in the evening, leading to the threat of frost at night. This results in many a gardener continually popping out to tap thermometers and unravel fleece in the evening twilight – a strange ritual to witness indeed...!
Not only that, but the warmer temperatures lead to a population boom in the garden pest world; let these various creatures (who would not look out of place as the cast in a horticultural horror film) get a foot-hold in your garden now, and it's one long battle through to autumn!
That's why Sharon's been rummaging through the potting shed and flicking through our catalogue to build an arsenal of weapons capable of repelling our slithering/flying/creeping/crawling/plant-munching 'friends'. In this update, you'll find out who'll be 'hogging' the garden headlines; we discover which slug preventative measures she's been putting in place; how soil preparation will help keep the brassicas healthy; and news on how the potatoes (yes, all of them!) are doing.
But don't think the pest invasion is confined to our garden! Each month and season in the gardening year throws up new, ahem, 'challenges' – and that's where our Ask the Expert service proves invaluable. You can either e-mail in a query or problem that's causing you consternation, or search through our archives for a solution. And if your thirst for gardening knowledge still requires quenching, take a metaphorical swig from the popular Garden Forum, also accessible from the links at the top of this page.
But for now, let's raise a glass to April in the garden- cheers!
Ground Hog Day!
That's the unfortunate situation the burgeoning Kitchen Garden slug population will experience once a fascinating tie-up comes to fruition; we'll have our own population of hedgehogs patrolling the garden! These slug-munching gardener's allies are being provided by Spikes Aid, a Charitable Trust based in Norfolk which rehabilitates and then re-homes injured hedgehogs. Sharon's been negotiating with Spikes Aid for a while now – they've even been to visit the Kitchen Garden to risk assess the area – and hopefully our army of prickly pest devourers will be arriving shortly. Says Sharon; "These little fellows are being rehabilitated and Spikes Aid are using our garden as a release site for these lovely little creatures. It's truly symbiotic arrangement for us in the Kitchen Garden; they eat the slugs and we provide a safe haven for them by way of hedgehog houses."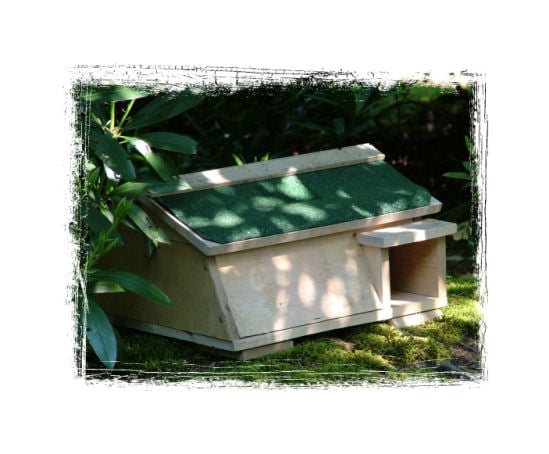 It's not just a case of let them go and sit back though – far from it. Continues Sharon; "Spikes Aid thoroughly checked the suitability of the Kitchen Garden and surrounding area before agreeing to supply us with the hedgehogs. We've had to reinforce the fencing and gates, provide a smaller mesh to prevent any hogs with Wimbledon aspirations from straying into the tennis court and even install ramps into the ponds to help them out! Some of the hedgehogs have three legs and similar physical disabilities, so will require all the assistance we can offer." We'll make sure the Kitchen Garden is a real hedgehog haven with the provision of houses, and we've even laid on a few thousand slugs for them to eat!
If statistics are correct, and these hungry little slug-hoovers devour up to 100 a night, we'll all be happy – except the slugs!
You'll be able to read more about this completely natural form of pest control next month, and look out for further details on Spikes Aid and the work they do on the Garden Forum – coming soon!
Top Taters!
Remember last month when I revealed the extent of the Kitchen Garden potato planting programme for this season? Well, a quick trip round the garden recently revealed plenty of green shoots in both beds and the various planting containers Sharon's employed this year. I've always thought gardeners fall into two distinct categories when it comes to planting potatoes and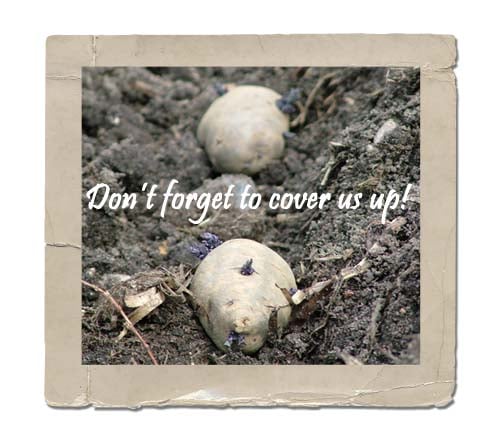 earthing-up: the bury-them deep-brigade and the earth-up-later squad. I'm a fully signed up member of the former – I just love the sight of mounded rows and watch intently for the first shoots to poke their way through, but this year in the garden Sharon's a clear advocate of the latter. Don't get me wrong; I don't think there's a right or a wrong way to grow your spuds, but it will be interesting to compare crops – although I don't think the blight-fest which was summer of 2007 is a fair test! Any potato tips this month, Sharon? "All the potatoes are in the ground now and will need earthing-up as they grow – but don't smother them. You may also want to mulch them later in the month, and I will be using Strulch here. If frost threatens, I will use fleece but I plant in a trench so earth can be easily pushed on top rather than pulled upward to the plant. This method also provides some protection from frost and wind". What about the plethora of potato containers dotted around the garden? "Don't forget to earth up spuds in planters and containers too. Remember to water and even apply feed. Imagine they are a very hungry pot plant and need a bit of care in containers," Sharon says. When exactly will the first portion of chips be served?! Form a queue behind me!
Bring on the Brassicas!
They're in the ground a long time; they're not everyone's favourite but they're an essential part of crop rotation the garden scene in general – ladies and gentlemen, please be upstanding for the brassica family. Munched by pests both large (pigeons) and small (caterpillars) and under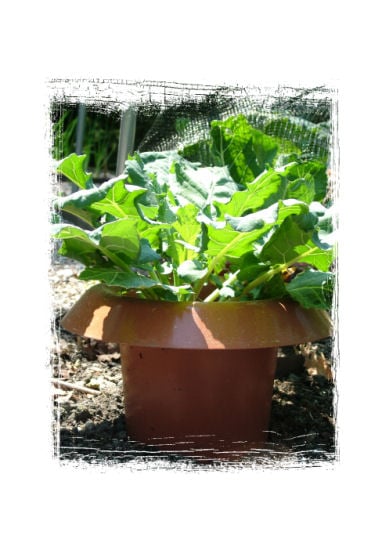 threat from cabbage root fly, probably the only thing which won't take a chunk out of your cabbages, Brussels sprouts and broccoli are children!
We've found in previous years (to our cost) that the larvae of the beautiful cabbage white butterfly – a flawed diamond – will decimate a cabbage crop so Sharon's drawn on those dark days to ensure there's no repeat.
She's using a freestanding vegetable cage, butterfly netting and various other techniques to keep the brassicas happy – I'll let her explain the rest! "All the young brassicas, in modules and biodegradable pots, are to be hardened off, with some lucky ones heading for 'Brassica Hotel' - a cage made from the smallest mesh available and lined with a bed of tilled, manured and calcified soil to keep away those aphids and other nasty pests," says Sharon. "Others will be placed in a control bed with little protection to see how they compare – I will let you know the results."
Marauding Molluscs
The famous old phrase goes something like this; 'there's only two things for certain in life – death and taxes'. For a gardener, you can add slugs to that list of inevitabilities. It's a constant challenge to reduce the numbers of slugs in your garden to a level where most of the plants can flourish but there is no shortage of products to choose from to help you; in fact, the range can be rather bewildering! We've simplified things here at Harrod Horticultural by only stocking, and using, completely natural and organic products – and Sharon's certainly been hard at work manning the battle stations.
Here's the latest bulletin on her attempts; "The slugs are out in force at this time of year, an army of molluscs on the attack," she laughs, continuing the military theme. "Thwart them with Slug Wool, Slug Pellets and barriers, and don't forget the Smart Pots – they've done brilliantly on trial." Add in regular 6 weekly applications of nematodes and we might just be in the ascendancy...
An accusation that's been levelled at us before is that we shouldn't interfere with nature, and just allow the slugs to live, breed and die as intended. I don't subscribe to that theory; if I can use naturally occurring and organic methods to keep these pests under some sort of control – I'm talking nematodes, the innovative hedgehog proposal and other techniques which only target slugs – and raise plants I can consume, then I'll happily do so. After all, if I can't grow my own vegetables, I'll be driving to a supermarket to purchase fruit and veg that's been delivered on a lorry or plane; surely that's more harmful to the environment than releasing some hedgehogs, for example? Discuss! Contact me at martin@harrod.uk.com with your views!
And last month… You might remember from my last e-mail update that Sharon was raving over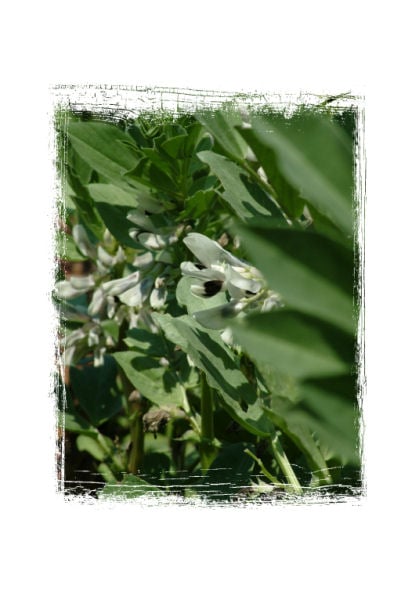 her broad beans. "They're really doing well," she enthuses, "and the pale flowers are certainly bringing in the bees. I can see the first pods just starting to set so I'm watering like mad to maximise the crop," she says. The happy carrots are now bigger happy carrots in their sandy raised beds and the party in the greenhouse continues, as Sharon reports; "Courgettes, Summer Squash, Winter Squash have all been sown now. They were started in the greenhouse in various pots including coir, and will be hardened and planted with protection."
Also requiring protection – but from the sun, not the cold - is Dave, Head Gardener and dedicated digger of the formal gardens surrounding the Kitchen Garden. After completing his rabbit-induced lawn repair programme he's started using his mower in earnest, along with spraying the millions of greenfly which have infested his roses. With derris likely to be banned next year (see story on our Garden Forum), Dave's been testing out alternatives – which has given him another problem - as he's got two new favourites; "I just can't split the Organic 2 in 1 and the Nature's Answer Natural Pest Control sprays," he grumbles, scratching his furrowed brow!
Martin