Kitchen Garden Update – March 2006 Springing into Action! Seventeen degrees celcius certainly seems to indicate that Spring is finally here, and the Kitchen Garden is starting to awaken! That's what our max/min thermometer recorded in the last week of March and even though it was right at the back end of the month that the weather finally warmed up, there was plenty going on under the cover of glass.

We stressed last month how important it was to get the seed sowing underway as quickly as possible with such a lot planned for the garden this year – and things just got a whole lot busier! We were hoping that the vegetable plants which will adorn our stand at this year's RHS Chelsea Flower Show would be expertly grown for us once again, but unfortunately this never came off. So, it's now down to the Kitchen Garden to produce enough plants to make the display as successful as last year (when a Certificate of Commendation for Outstanding Presentation was awarded) - no pressure then!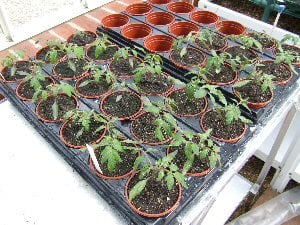 The plants earmarked for Chelsea are, in no particular order basil, courgettes, dwarf beans, carrots, coriander, broccoli, spinach and lettuce, with a few plug plants likely to be bought in as re-enforcements! All the above plants have been produced from our range of organic seeds and at present, have all germinated in the combi-pack systems and are growing on nicely, while we scratch our heads as to how on earth we can successfully pot them on keep them healthy and transport them to the Chelsea Show. As you can probably imagine, the greenhouse is packed to the autovents with trays of plants at present, as well as four lengths of guttering into which we have sown the pea seed (variety Ambassador) – regular readers will recall we used this method, with great success, last year.
We've also gone for an earlier sowing date than last year to try and avoid the pesky pea moth, whose caterpillars were discovered in the pea pods last year, and also to try and get the crop through before powdery mildew becomes a problem – installing a surface level micro-irrigation system may also help to prevent the latter. Apparently the adult pea moths are most active between early and late summer, so if our peas flower before this period, we may escape – but it's all about picking up experience!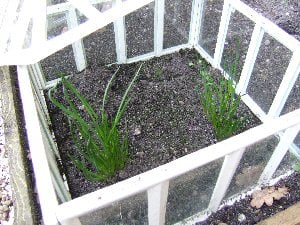 A few of the hardier crops are braving the cool nights in one of the hardwood cold frames and acclimatising to life outside the greenhouse; the leeks are hardening off and a tray of rocket germinated in the frame, as they do not require such a high temperature to get going. Staying outside – in the decorative fruit cage to be exact – and the frames to support the raspberries have been erected. It's recommended that these frames are capable of supporting plants up to 1.7m in height, so that's what we've constructed – as well as using one of our own raspberry support frames.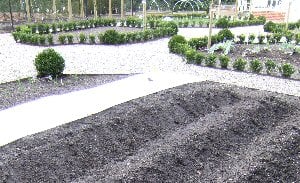 I've alsostarted laying three decorative stone circles at the junction of the garden pathways. The intention is to place a fig tree, a peach and a nectarine, each planted in a giant longtom pot, in the centre of each circle, which will give me something else to avoid with the wheelbarrow!