KITCHEN GARDEN UPDATE AUGUST 2007
You've got to take your hat off to Mother Nature. She laid on the perfect conditions for slugs and snails to procreate during the wet months of June and July and now she's sent some welcome August sunshine which the plants are lapping up. The result? Lots of slugs, lots of snails and lots of juicy plants to eat!

Poor Sharon has been pulling her hair out at the sheer numbers of hungry molluscs currently residing in the Kitchen Garden, and you can read about her tactical moves to reduce their numbers below. She's also been busy turning our little corner of Norfolk into an exotic Mediterranean oasis, with her plantings of basil and more unusual salad varieties – utilising the raised bed suntrap I created in June to it's full extent.

And if you fancy a break for the warmth of the mid-day sun, settle down with a cool drink in front of your PC and browse our weblog, packed full of news and views from the horticultural world. But for now, it's back outside for a rundown of August in the Kitchen Garden…

Slug Removal is a Long Slog!

As I mentioned above, it's been a really bad year for slugs. Actually, that's not quite correct – it's been a fantastic year for slugs, and a terrible one for gardeners. Poor Sharon, with her day to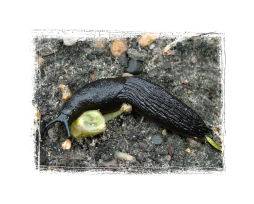 day involvement at the Kitchen Garden, has been in the forefront of the slug battle – let's not forget their allies, the fortified snails – and has seen at first hand the damage they've caused to our peas, courgettes, squashes and pak choi.
She's been regularly applying nematodes to help reduce the numbers and used some of our organic slug pellets – all of which help keep the numbers down – but like most gardeners, would feel better if she could she see some tangible evidence the slugs are being removed. Stopping short of spending all night in the garden picking the leaf-munching monsters off by hand, what could she do?
Introduce some of our Slug and Snail Trappers, that's what! So successful have these cylindrical traps been that Sharon has placed one in each Kitchen Garden bed, and she's catching loads of fat slugs and snails. "The trap is simple to install, and requires very little maintenance," she beamed. "You just dig a hole to sink the cylinder into the soil, fill it up with bait – or, like me, beer – and leave it. I've been checking the traps every couple of days and the amount of slugs I've caught is amazing. I just feel better if I can see I'm catching them– it's psychological!"
And are there plenty of slugs left for the local birds and hedgehogs to dine upon? "Most certainly!" Sharon laughed. "We're not running out, that's for sure!"
Strawberries Get a Rise!

As the current – and original – Kitchen Garden strawberry plants have been producing their tasty red wares for 3 years now, we've decided it's time for a change. Out went the old plants and in came the new – straight into a luxurious, triple-walled three tier link-a-bord construction, designed and built by Sharon. "I've gone for the extra height as the tiers will allow for easy setting of runners, " she explained. "The triple walls will give extra insulation during the winter and early spring, and hopefully this will reflect in early cropping, if I use protective fleece as well." Sharon has planted Honeyeo, Cambridge Favourite and Symphony to ensure a long fruiting season and is delighted to have found yet another use for the versatile link-a-bord components.
Basil!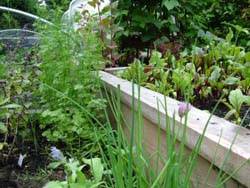 That's what Sybil Fawlty was constantly shouting after her hapless husband had caused yet another disaster at Fawlty Towers! Here in the Kitchen Garden however, it's got a much more relaxed meaning. Sharon's been busy sowing basil seeds in the raised bed system I constructed earlier in the summer, and the August sunshine has really bought the seedlings on. As well as Kitchen Garden favourite Sweet Genovese, Sharon's been sowing Cinnamon, Red Reuben and Purple Ruffles, and has big plans next year for an even more extensive basil bed. I've tried the Cinnamon basil and it's a real taste bud sensation – grow it if you can!
Winter Greens

Ever keen to experiment, Sharon's been busy ordering green manure crops to occupy – and eventually fertilize – some of the beds this winter. On her shopping list has been Phacelia, Buckwheat, Field Beans, Crimson Clover, Land Cress and Claytonia, and she explained her plans for the winter. "The Buckwheat is for immediate use, and the Field Beans and Crimson Clover are perfect for increasing the nitrogen content of the sandy soil we have in the Kitchen Garden." "I'll also be using the Land Cress and Claytonia in shaded beds as a dual purpose winter green and manure," she said. Again, I've tested some of the Land Cress and its distinctive hot and peppery flavour may well find its way into some of my future salads!
And last month…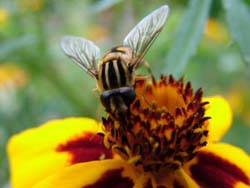 You might remember last month that we were looking to introduce another water butt to store water before the good weather arrived, carry on spud harvesting and make sure we netted any susceptible crops. We've achieved all these aims – and lot's more, of course – and Sharon is delighted at the performance of the butterfly netting we've used this year. "It's done a really good job protecting the brassicas in the veg cage," she says. Also in Sharon's good books is another slightly leftside introduction to the garden, Red Orache. "It's a bit like a mild spinach," she explained, "you cook the pretty cerise leaves like spinach, and you can even eat the stem if you let it get big enough – just steam it like asparagus. It's also looks very handsome in the plot!"
And speaking of handsome, what of Head Gardener Dave, who tends the formal gardens surrounding the Kitchen Garden?! He's enjoyed a well-earned holiday, but has returned to find the wild-flower garden rather too wild! He's been cutting back some of the grasses to improve the vista, and his garden hedge-trimming duties are still on-going. He's also been casting envious glances at our top-notch Kitchen Garden watering systems, so I don't think it'll be long before he treats himself to a patio/hanging basket watering kit to make this last glimpse of summer even more enjoyable!
Don't forget to visit our completely revamped Harrod Horticultural weblog, accessible from the Garden Forum link, it is well worth a look. We're finding the variety of gardening news, information and opinions posted going down really well, so why not post some comments of your own, especially if you've got any unsual gardening tips or can relate to any of the articles already written.
Martin