KITCHEN GARDEN UPDATE FEBRUARY 2007
Spring is sprung! Yes, I might be jumping the gun a little but there are definitely signs that nature is rumbling back into life.

Small green bulb shoots are straining to push their way up through the soil and the rhodendrons are starting to form buds. It's a trend that is certainly continuing in the Kitchen Garden greenhouse but that's got more to do with Kate and I than any seasonal growth; how else could you explain tomatoes just about to flower, courgettes in 3 litre pots and little pepper plants growing strongly? Here's a rundown of the major events in the garden during the past month…

Stand by your Beds!
The P-words – planning and preparation – can certainly be directed at the Kitchen Garden this year. We've been growing green manure crops, covering beds and mulching like mad, and – hopefully – we're on the road to reaping our summer rewards. You might recall from January's update that we were growing some field beans in the bed earmarked for onions, shallots and root crops, mainly because this particular bed hadn't had a look-in on the legume stage of the crop rotation system and we'd thought it would be nice to dig in some nitrogen. After digging in some compost and strulch, then sowing and growing the beans before allowing the frost and snow to break up the soil, we're covering the beds with fleece to warm them up – a bit like a horticultural electric blanket – prior to planting. The onions will love it!
Forcing the Issue
Rhubarb production was a non-event in the Kitchen Garden last year, but the signs are that's all about to change. We've recently taken delivery of some organic Timperley crowns which we'll be planting out as soon as conditions allow. However, one of the surviving crowns from last year (var. Victoria) is 'forcing' its way through the layer of protective mulch – it's looking good for crumble this year!

The Rhubarb Forcer has played a major role in sparking the crown into life and it looks good in the garden too; especially on a frosty February morning!

Dig/No Dig – More News!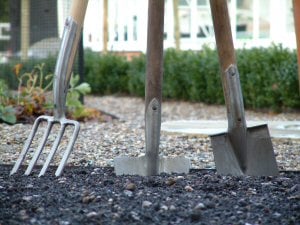 Looks like our debate on whether or not to dig your beds over is escalating, with a number of dedicated diggers contacting us during the month. From the responses we've had, it seems that one of the main reasons for digging is poor top soil. Mr Conroy-Browne, an allotment holder from north London, is firmly in the digging camp. "The soil in this part of the world is over clay and no matter how I improve the top few inches, I find that digging is a necessity to improve drainage. Of course, I'd much rather not dig – especially clay – and I can see sense in the no-dig policy, so I might try it on a section of my plot," he said.
Another digging club member, Mrs Goatley from Suffolk, said her vegetable patch was overlooked by nettles and without digging, they'd take over. "I've tried all sorts of ways of getting rid of the nettles but their roots just keep growing. I've found that digging the patch helps break up the roots and stops them spreading." She continued;"I actually like getting out into the garden on a sunny day in winter and digging away."
This was a view echoed by a number of other dig fans. John King from New Romney in Kent really enjoys the benefits of physical work in the garden. "Digging my plot over for an hour or so is supposed to burn off around 200 calories, and that's time I'd much rather spend in my garden than down the gym!"
It seems like there's some healthy competition and it's easy to see the merits of both practices – why not follow our Kitchen Garden lead and section off part of your garden, plot or allotment and put the spade away?!
If you've got any comments on the subject, you can still e-mail or post on the Garden Forum weblog, and we'll contact you for permission to use your comments in further updates.
And last month…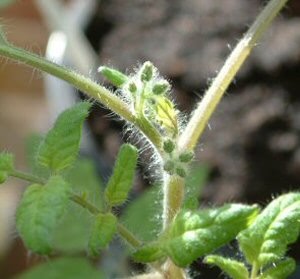 You might remember from my last e-mail update (subscribe here if you didn't receive a copy) that I was keeping a close eye on the plants I'm growing for the Harrod Horticultural stand at this year's RHS Chelsea Flower Show. I'm pleased (you don't know just how pleased!) to announce that the plants came through the recent power cut scare unscathed, and are growing well. The Tumbler tomatoes are almost in flower as you can see in the image above and I've even got some Zuboda courgettes on the go! The trusty old broad beans are coming along well and I've heard no more from the local mice population; hopefully this will continue as Kate planted the anti-mole and mice bulbs.
Head Gardener Dave, who tends the formal gardens surrounding the Kitchen Garden, is still being kept awake at night by the thought of who – or what – is making holes in his lawn (see last month's update). If you can help the poor chap, contact me at martin@harrod.uk.com and together we'll try to put his mind at rest. Meanwhile, in a vain attempt to distract himself from the lawn issue, he's been setting up and baiting the humane rabbit traps around the main garden. "If it's not one thing digging up my lawns, it's another," he moans. "The rabbits are everywhere and I want to try and keep their numbers down before they get out of hand. There'll be plenty for them to eat once the bulbs and border plants start shooting, "he sighed.
Dave's also been re-shingling the existing network of paths around the gardens, and creating some new areas by laying down porous mulching fabric before covering with the small stones. It's also wisteria pruning time, a task Dave will be tackling very shortly.
That's all the Kitchen Garden news for now but don't forget to visit the completely revamped Harrod Horticultural weblog, accessible from the Garden Forum link on this page, and enjoy reading the articles we've published. We're posting a mix of gardening news, information and anything else that takes our fancy – daily - and it's proving a popular destination. You can even post a comment of your own, especially if you've got some good gardening tips or can relate to some of the articles we've written. We've got recipes, pest control information and lots more – the Garden Forum is certainly the place to visit!
Martin