STEPHANIE'S KITCHEN GARDEN UPDATE – FEBRUARY 2010

A real tale of two seasons in one month – that sums up February in Stephanie's Kitchen Garden quite succinctly! More heavy snowfall during the early days finally gave way to a spring taster with sunny days and admittedly cold nights, and this (hopefully) permanent lull in the winter weather has finally given me the chance to start repairing all the weather damage my Kitchen Garden plants have suffered – even the hardy broad beans I started off in November took one knock too many!

My greenhouse has been the hub of all February's Kitchen Garden activity; I'll tell you all about my big plans for peas this year and how I've started sowing already; there's information on the prolific Earthboxes – one of last year's crops is a real 'see it to believe it'; an update on my chitting attempts with potatoes and plenty more. Why not let my gardening experiences inspire you now spring finally appears to be easing winter out the way?! Pea
Preparation
I'm quite sure I'm not alone in believing the taste of freshly picked and shelled peas is one of those unique garden experiences – talk about perks of the job! And I must confess I do find it difficult to walk past my pea plants, usually dripping with pods, and not spend a few minutes 'sampling' the produce – and that's why sowing and growing peas is normally high on my Kitchen Garden agenda.
I've already started my seeds off in lengths of 2 metre plastic guttering in the greenhouse yet again – it's a technique I've used even since the Kitchen Garden's inception back in 2005 – and as it's worked spectacularly well every year I see no reason to change. I've elevated the guttering off the greenhouse floor to prevent mice attacks on the seeds and once the young seedlings are large enough to plant out, I'll harden them off, pull out a drill and gently slide the contents into the channel - it's that simple! Just make sure you water the peas well prior to 'planting' as this helps them slide out more easily.
And on the subject of peas, I'm going to try them in our 8ft long x 4ft wide Superior timber raised bed this year. Why the change from open ground? Well, we've carried the very popular Pea and Bean Hoops with Cross Supports for a number of years now but at 3.6 metres in length, it's really only suited for open soil or very long raised beds but now we've developed two shorter versions (1.07m and 2.29m in length) that I can't wait to try out!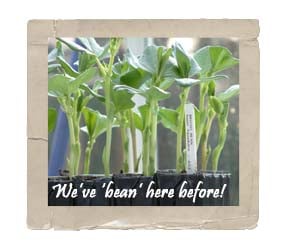 Bean Here Before!
My Kitchen Garden came through what is widely regarded as the coldest winter for 30 years relatively unscathed – I kept convincing myself that the penetrating frosts and recurring snowfall was doing a great job conditioning the soil - but unfortunately, there were some casualties to report. The broad beans – normally capable of surviving a run of the mill winter if planted in the autumn – suffered one blow from the heavy snow too many and were broken and snapped, leaving them looking very sorry for themselves.
I do like broad beans, not just because they taste great when home grown but because of the colour they provide in an otherwise monochrome winter garden, so I've decided to sow some more. Yes, they'll be a much later crop than I usually grow and could mean my summer crop plans may need some slight refining, but I think they'll be worth it! I'm using the tried and trusted rootrainers to raise my seedlings before hardening them off and I'll be interested to see if I suffer from the black bean aphid invasion with a later crop. My autumn plantings usually only catch the tail end of this airborne squadron but I'll let you know if I have to spend a few minutes picking my way through the crop pinching out the tips!

Potato Puzzle!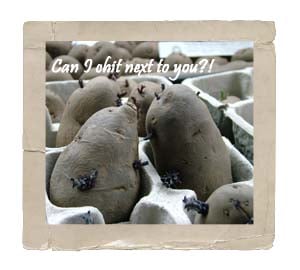 We're arriving very quickly at the time of year we can start planting potatoes and I always enjoy planting out my tubers and earthing up – seeing those rows with the soil pulled into mounds is what I call real gardening. We can't all enjoy the space to grow potatoes in this style though and that's where potato planters come into their own; they are portable, they allow you to produce home-grown potatoes on a patio or other areas unsuitable for traditional growing and you can start your crops off earlier if you put them in a greenhouse or cold frame. But whether you choose to grow in open soil or planters, you'll still need the seed potatoes to produce your crop – and the question I have is; to chit, or not to chit?
It's a question which divides gardeners. Should you just plant out the seed tubers or is it better to stand them in a potting shed – or anywhere cool, light and frost-free for that matter – and let them develop small shoots, or chits, before planting? I've always 'chitted' my Kitchen Garden seed potatoes as I feel it gives the crop a kick start before they hit the soil, but I've never got around to running a test to prove conclusively that chitted spuds do better. Perhaps this year!

If you'd like to chit your own potatoes, here are a few Stephanie's Kitchen Garden tips for you;
• Find a light, cool, and frost free place to chit your potatoes (my potting shed is ideal)
• Stand the tubers upright with the rose end uppermost
• Use egg boxes or seed trays to hold the potatoes
• You'll see dark green shoots start to appear from the eyes
• If these shoots are long, weak and pale then it's too dark – move the potatoes to a lighter spot
• Plant out tubers when the chits are about 2cm long
Let me know how you get on by sending me an e-mail and we'll compare potato notes next time around!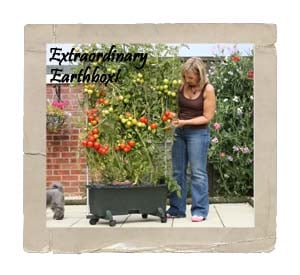 Extraordinary Earthboxes
A real Stephanie's Kitchen Garden triumph in 2009 were the Earthboxes. A tomato factory on wheels would be one way to describe this self contained growing system and I certainly enjoyed the ease of mobility and of course the huge crops of tomatoes, peppers, aubergines and chillies they produced. Mindful of this, I've been clearing out the remnants of last year's crops, cleaning the boxes and generally preparing the Earthboxes for a repeat run this year. All I need to do is get my hands on some decent potting compost and one of the Earthbox Organic Replant Kits and I'll be set up for another bumper yield! I also get the advantage of an early start by placing the Earthbox in the greenhouse before moving it out into the garden proper for a blast of summer sun; last year I enlisted the help of Head Gardener Dave to help me lift it up the greenhouse step but I'm planning to install a small ramp to enable me to move the box around at will!
The success of the Earthbox wasn't just limited to my Kitchen Garden. Beverley, one of our knowledgeable Customer Service Team and a keen gardener herself, decided to try the Earthbox first hand – and the results were incredible! She reckons a harvest of 200 tomatoes from just 2 plants isn't far off the mark and that's certainly given me something to aim for this year; we gardeners love a challenge! Also thawing out after the bitter winter is Head Gardener Dave, slowly warming warden of the formal gardens which surround my Kitchen Garden. He's been busy helping me prepare the carrot beds in the Kitchen Gardens by digging in the horse manure I applied last month and adding sand to the soil. I was delighted with the carrot vintage of 2009 and I'm convinced the light sandy soil had a lot to do with it, so I'm determined to replicate the conditions this time around. Dave's also been working up as sweat scrubbing down any algae-stained brickwork with Algon; laying mulching fabric and then covering it with shingle to freshen up pathways and giving the apple and pear trees a winter haircut!
It's not only gardeners who venture out once the temperature starts creeping up. Slugs and snails will start stirring in the garden and spider mites will begin sleepily emerging from greenhouse frames, so there's no better time to contact Harrod Horticultural's very own garden pest control expert Julian Ives with any of those early season pest problems. Julian's heading up our brand new Natural Choice range of completely organic pest control products – safe to use around children, pets and wildlife – which you can view online in an easy to follow pest by pest format. Contact Julian by e-mail or letter with any pests or problems you've already encountered and get expert preventative advice before things go too badly wrong!

We've also produced our very own FREE Pest Guide entitled the Little Book of Pests; an invaluable, 24-page 'keep handy' guide packed full of information on garden pests and the organic Natural Choice range of products with which to successfully control them. You can download a copy (PDF version, 2.65MB) instantly and be in the garden identifying your pests minutes later – it helps to know what you're up against and what do!